Thousands of people marched through the streets of Belgrade, protesting against the policies of the President of Serbia, Alexander Vucic, reports
Interfax
.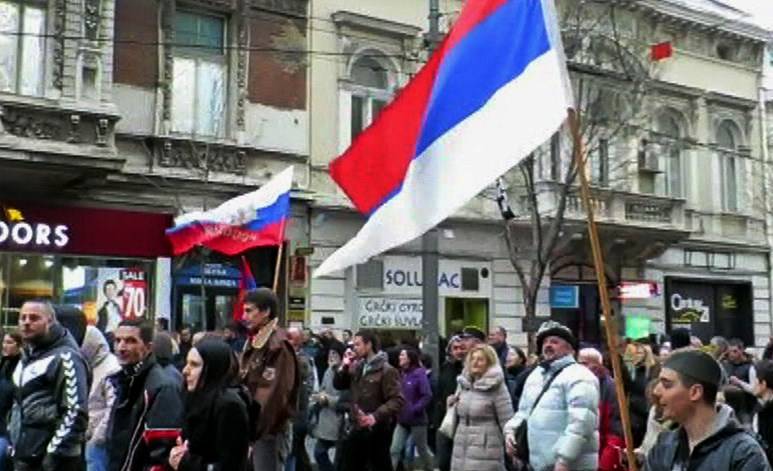 It is reported that the reason for the rally was the beating of politician Borko Stefanovich and his associates. According to opposition activists, this incident became possible because of the "atmosphere of cruelty and intimidation" created by the ruling coalition.
In the past, Vucic adhered to nationalist views, but now declares his desire to introduce Serbia into the European Union. The opposition believes that the president has limited democratic freedoms in the country.
Recently, the Serbian leader also said that Belgrade will have to accept the decision of Kosovo to create a full-fledged army, as they are supported by the powerful United States, which Serbia has no chance to defeat.
According to him, it has long been understood that the United States are behind the Kosovo Albanians. In addition, Kosovo is supported by some countries in Europe.
Serbia will not be able to change the opinion of the Americans, it has no other way out, it has been driven into a corner,
said Vucic.
At the same time, he noted that he continues to fight for the interests of his people, conducting "fruitful negotiations" with NATO Secretary General Jens Stoltenberg, as well as with Russian and Chinese partners.
The president urged the Serbs not to even think that they could "defeat the United States by military means" - everyone remembers how they attacked the country once. Therefore, it is better to save people, "so that more children are born," he added.
Recently, the American ambassador to Pristina, Philip Kosnet, said that he was not interested in which international document allowed the Kosovo authorities to have their army - America recognized Kosovo and acted in accordance with this recognition. The diplomat called the formation of the army in this republic a "positive step," since in the future it will become part of "international peacekeeping operations."