Two pro-Ukrainian activists jumped onto the stage during the performance of the song and dance ensemble of the Russian Army. Aleksandrova in the city of Bydgoszcz (Poland) and launched anti-Russian slogans, reports
RIA News
.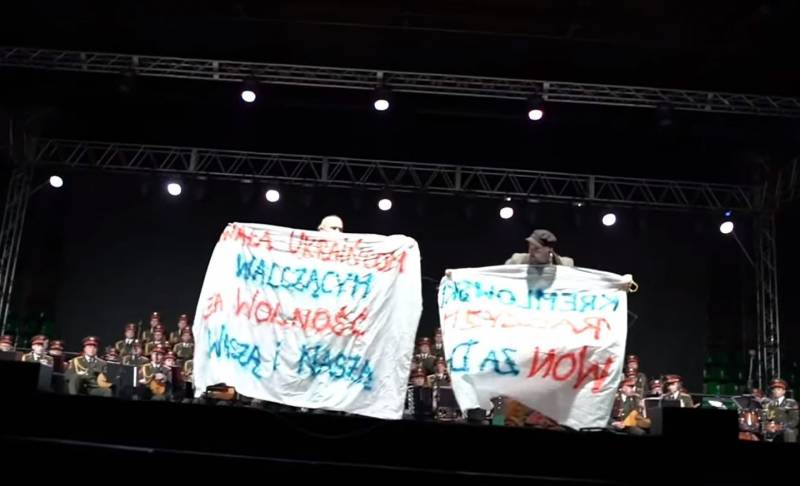 The incident occurred on Friday. At the request of the agency to comment on the incident to present the team said that the artists are fine.
In turn, an eyewitness, who was in the hall, said that the hooligans, who had climbed the stage, were holding anti-Russian slogans in Polish. On one was written: "Kremlin rashism (from the word Russia, - note" IN ") won over the Don." On the other: "Glory to the Ukrainians fighting for your and our freedom."
At the same time, activists chanted: "Paws away from Ukraine." One of them, running onto the stage, dropped the Russian flag set next to the Polish one.
The interviewee clarified that young people climbed onto the stage immediately after the actors performed a Cossack dance with sabers. In the hall the hooligans were not supported - there was a disapproving whistle, someone demanded to call the guard.
Soon the guards appeared on the scene and took away the provocateurs. However, according to the video, they did not detain them. On the street, activists re-launched their banners, adding flags of Ukraine and Poland to them.
At the request of the correspondent to comment on the incident, the representative of the ensemble Tatyana Nikolaeva answered:
The team is fine, everything is fine. There will be no comments.
During the tour in Poland, the ensemble gave already 2 concert. There are still 5 appearances.