In Mexico, the inauguration of the President-elect Manuel Lopez Obrador took place. At the same time, footage from the ceremony spread all over the world, causing a wide resonance. The reason for the reaction to how the newly minted Mexican president was sworn in was gestures that were demonstrated both by Lopez Obrador himself and his supporters in the country's parliament.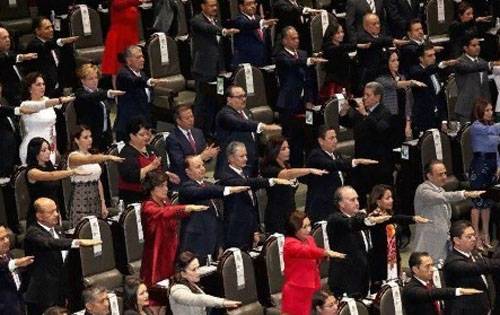 The new president of Mexico, declaring that now in the country will be finished with poverty and misery, sent his hand forward with his palm down. A similar gesture was repeated by deputies of the legislature of Mexico. The gesture is a lot like a Nazi salute. At least, this is how it was described in a number of Mexican newspapers. At the same time, other media outlets stated that these are "ritual gestures of indigenous peoples".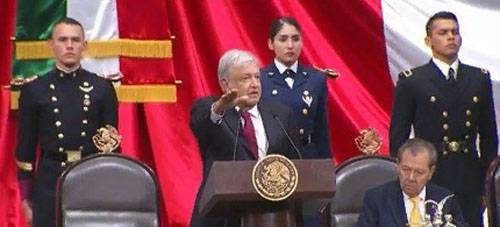 During the inauguration, Obrador in the presence of Indian shamans vowed to put an end to social inequality and raise the standard of living of the country's indigenous peoples. After that, Lopez Obrador went through the Indian rite of "purification", which looked very original.
After the ceremony, the president "went to the people", began to hug with men and kiss the hands of women.
It became known that the first order of the new president was the order to sell the presidential airliner. Lopez Obrador said he would use regular flights for flights. The cost of the ship - about 220 million dollars, it is known that he is two years old. Proceeds from the sale of the presidential aircraft funds will be sent to "debt coverage".
For your information:
Lopez Obrador 65 years. He participated in the presidential elections in 2006 and 2012, but each time he conceded. In 2018, the leader of the National Revival Movement won the election.