Как
transmits
Iranian news agency Fars News, on Thursday, 29 on November 2018, Iran's Navy Commander Rear Admiral Hussein Khan-zade made an official statement in which he confirmed the willingness of the forces entrusted to him to repel US Navy.
Also in it, in particular, it was noted (probably under the influence of recent events on the Sea of ​​Azov) that the Iranian fleet now has sufficient power, which allows it not only to ensure its own national security, but also to assume the functions of region-wide security and freedom of navigation throughout the Persian Gulf, the Strait of Hormuz and even the Gulf of Oman.
In this, the commander of the Iranian Navy invites all countries of the Persian Gulf region to use the capabilities of the structure subordinate to him instead of any naval forces of foreign powers (by which are meant primarily the US Navy forces operating in the region on an ongoing basis).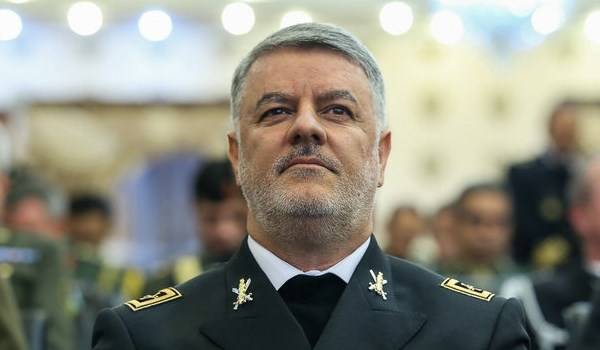 Rear Admiral of the Iranian Navy Hussein Khan-zade
According to the Iranian Rear Admiral, his country is ready to offer its experience in ensuring regional naval security and supporting the freedom of navigation to all countries in the region, since "security borrowed from external states cannot last for long."
Note also that the performance of the senior officer of the Iranian Navy sounded during the launching of two Iranian-made submarines of the Kadir class, and the launch of the Iranian destroyer Sahand (the project Jamaran) was scheduled for Saturday.
True, despite the vigorous statements of the Iranian Navy command, there are serious doubts about his ability not only to resist, but even to inflict at least some serious losses on US Navy in the event of an armed confrontation between these two countries.
In particular, one of the reasons for this is the death of the Iranian destroyer Demavend, which sank without any impact from a likely enemy during a completely normal storm in the closed water area of ​​the Caspian Sea in January of this year.