The Ukrainian president barely manages to hand out interviews to foreign publications. Gives several per day. And the main thematic line of Poroshenko's statements remains for him more than traditional: "Aggression of Russia. Ukraine protects the whole world. Give me money. Help by war. " Poroshenko spoke in a similar vein to readers of the German edition.
picture
.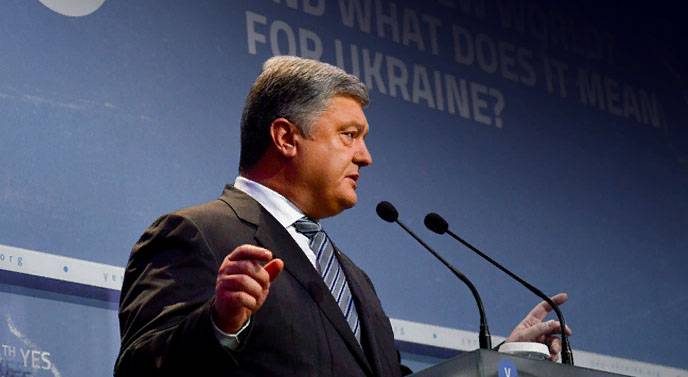 In an interview Poroshenko reiterated the "imperial ambitions of Russia." According to Poroshenko, the president of the Russian Federation "wants to turn the country into the Russian empire," for which "he needs not only the Crimea and the Donbass, but the whole of Ukraine."
The President of Ukraine declares that Putin sees Ukraine exclusively as a Russian colony.
All these statements were Poroshenko's attempt to explain for what purposes he imposed martial law in the country. German journalists were extremely interested not only in the introduction of the EaP, but also in its very peculiar variant - without general mobilization, without closing the airspace, without limiting the work of the banking sector, without curfews. In the network, this option of martial law has already been called "Petrovsky" or "super-light."
Petro Poroshenko:
I, as president, must defend Ukraine. And so I introduced martial law in connection with the incident in the Kerch Strait.
Poroshenko adds:
Putin, as in 2014, wants to annex another part of Ukraine. He behaves exactly the same as then. Germany is one of our closest allies, and we hope that NATO countries are now ready relocate ships in the Sea of ​​Azovto help Ukraine and ensure security. (...) Chancellor Merkel is a great friend of Ukraine. In 2015, she already saved our country through negotiations in Minsk, and we hope that she will also actively support us with our other allies.
Apparently, Poroshenko, when giving this interview, was not yet aware that the German government refused to send ships of his
fleet
to the shores of Crimea.
We will remind that earlier Poroshenko gave interview to CNN and NBC. All these conversations boiled down to Poroshenko's appeals to NATO countries for military assistance. And this suggests that Poroshenko set for himself the goal of drawing NATO into a direct conflict with Russia.