The Japanese government intends to include in the new medium-term weapons program a clause on the creation of the country's first aircraft carrier, the publication said
Yomiuri
.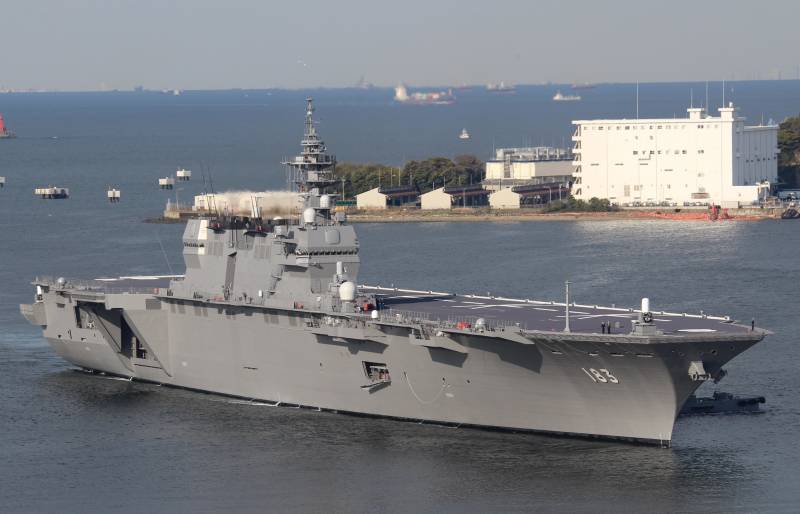 The program must be accepted before the end of the year. The aircraft carrier is supposed to be created by upgrading the Izumo helicopter carrier in service with the Navy.
In the future, the ship is planned to equip the American F-35B fighter with a short take-off and vertical landing. It is reported that on board the ship can accommodate up to 10 such machines.
According to the newspaper, the government should lay the necessary funds in the military budget for 2019 year. Commissioning of the first light aircraft carrier is scheduled for 2020 year. The official confirmation of this information edition does not have.
Such plans have been reported previously. So in 2017, the Japanese media wrote that during the modernization of the helicopter carrier, the working deck would be reinforced with heat-resistant material capable of withstanding the stresses of aircraft engines. It was also planned to equip the Izumo with a springboard for take-off fighters. It was noted that, if necessary, the aircraft will be able to use the US Navy and Marine Corps.
Recall, "Izumo" was adopted by the Japanese Navy in the spring of 2015. Its displacement is 26 thousand tons, length - 248 meters. It is capable of carrying up to 14 helicopters, as well as delivering up to 470 troops to the landing site. Currently composed
fleet
there are two ships of this class.