The British government demanded that Russia "stop the detention of ships in the Sea of ​​Azov." This statement was made against the background of the Ukrainian arbitrariness associated with the detention of 15-ti vessels that previously entered the ports of the Crimea. For obvious reasons, London has no complaints about Ukraine: it's a project of its own. But to demand something from Russia is in the blood of representatives of the British Cabinet (regardless of its composition).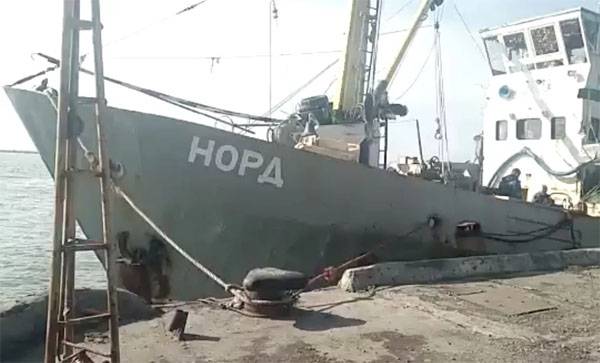 The head of European diplomacy Federica Mogherini also decided to get involved. She, as it turns out, is also extremely concerned about the problems in the Azov water area. To a lesser extent, Ms. Mogherini is preoccupied with problems, for example, in the Mediterranean, where European border guards are detaining vessels with refugees.
Mogherini stated that she referred to "interlocutors from Russia" that the EU expects the termination of the practice of inspecting ships. According to Mogherini, the EU is ready to respond with measures to the fact that Russia is inspecting vessels to the detriment of the economy of Ukraine and European companies that are involved in Azov traffic of ships. This, as experts note, is about the preparation by Brussels of the next package of sanctions, more precisely, about the elaboration of a new reason for sanctions (against the Russian Federation). Nothing new...
Head of European Diplomacy:
We, in particular the European Commission, are studying concrete measures to support the affected areas of Ukraine. We will report on these measures as soon as everything is taken officially.
Mogherini specified her statement about the "affected areas", noting once again that Brussels does not recognize the elections held in the Donbas.
Recall that Russia monitors ships that pass under the Crimean bridge. At the same time, the captains of the ships themselves note that this process does not lead to any long delay.
In the meantime, Britain was reminded of the detention of Ukrainian ships by Russia. However, no one in London said a word about the fact that Ukrainian border guards are detaining Russian ships. Not a word, for example, about the vessel "Nord", which Ukraine is already trying to sell with a hammer.
They pay attention only to what to pay attention to favorably, from the London point of view, which they themselves consider to be the only correct and infallible one.
Meanwhile, Russia continues to systematically develop the maritime component of security in the region. According to some information, a border ship with artillery armament entered the Sea of ​​Azov. This causes yet another shout of indignation from Kiev, although there they cannot explain which international law violates the Russian Federation.