At the 8-th International Exhibition of Arms and Military Equipment Indo Defense 2018, held in Indonesia's capital Jakarta, the Indonesian military demonstrated some of the achievements of the domestic defense industry, among which the Harimau medium tank was represented, bmpd reports.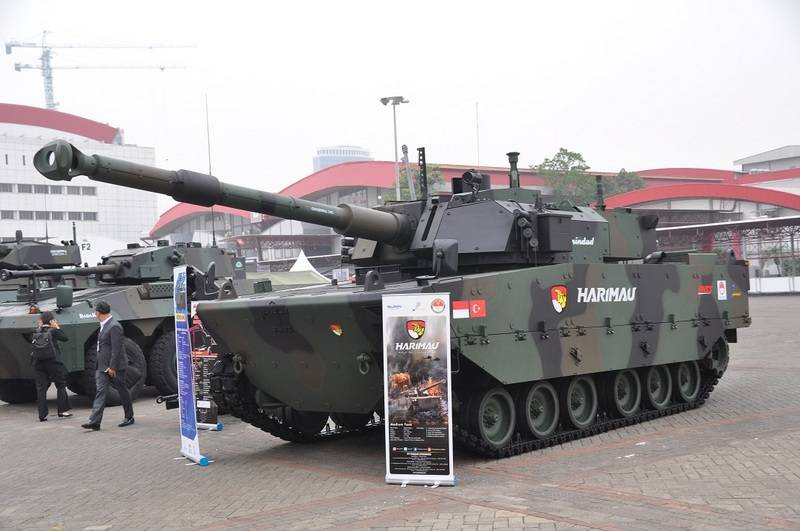 Indonesian military said tests of a new middle
tank
developed jointly with the Turkish side, completed and it is preparing for serial production. The contribution of the Indonesian side to the implementation of this project is not entirely clear, since the hull and chassis of the tank are completely created by the Turks, and the tank tower is Belgian. The tank is equipped with a 105-mm rifled gun manufactured in Belgium with a coaxial 7,62-mm machine gun. A drum-type automatic loader was installed for 12 shots, another 30 shots are placed in the machine body.
Crew 3 man. The body is welded, made of steel armor, providing all-round protection against 14,5-mm armor-piercing bullets. With the use of additional reservations, protection against 25-mm projectiles (in frontal projection 30-mm) is provided. The bottom is reinforced and provides mine protection against 10-kg charge.
It is not known which engine will be installed on serial machines, but on prototypes the Caterpillar C13 diesel engine of HP 711 power is installed. with automatic transmission, providing maximum speed on the highway 76 km / h and cruising range to 450 km. According to the developers, the tank is able to overcome a ford with a depth of 1,2 m, a ditch with a width of 2 m and a wall with a height of 0,9 m
At the first stage, the Ministry of Defense of Indonesia plans to purchase an 44 tank with an installation series in 20-25 tanks by the end of 2018. In total, it is planned to put in the armed forces 400 medium tanks Harimau.