In the Republic of Buryatia, a strange situation manifested itself. Local edition
"Number one"
published a material in which it was reported that Republican officials are going to update the fleet of vehicles, the price of which exceeds 1,5 million rubles. In particular, the material states that officials buy sedans with engine volumes of 2,3 liters and 1,687 million rubles, as well as furniture at immodest prices — for example, a desk for 60 thousand rubles. However, the same article refers to the procurement of more budget options for cars and furniture for the authorities. For example, office furniture for 30 thousand rubles - the price is quite acceptable for an office cabinet.
In general, it was a publication that, in fact, is not classified as a sensation. However, she caused a lot of negative comments from residents of the republic in relation to representatives of regional authorities. It would seem a common thing - the journalists published the information, the readers reacted. But now it turns out that law enforcement officers are interested in comments on the article itself. This is reported on the website of the Buryat edition.
A letter came to the editor-in-chief from the Center for Countering Extremism and from the "K" department. The police "ask" Oksana Sazhinov (the editor-in-chief) to provide them with the personal data of the reader, who expressed his opinion on the purchases made by representatives of the regional authorities.
Thus, it was stated about the need to provide the police officers with the IP address of the "commentator". This is explained by the fact that some commented readers, in the opinion of the police, "are inclined to impede the activities of state bodies".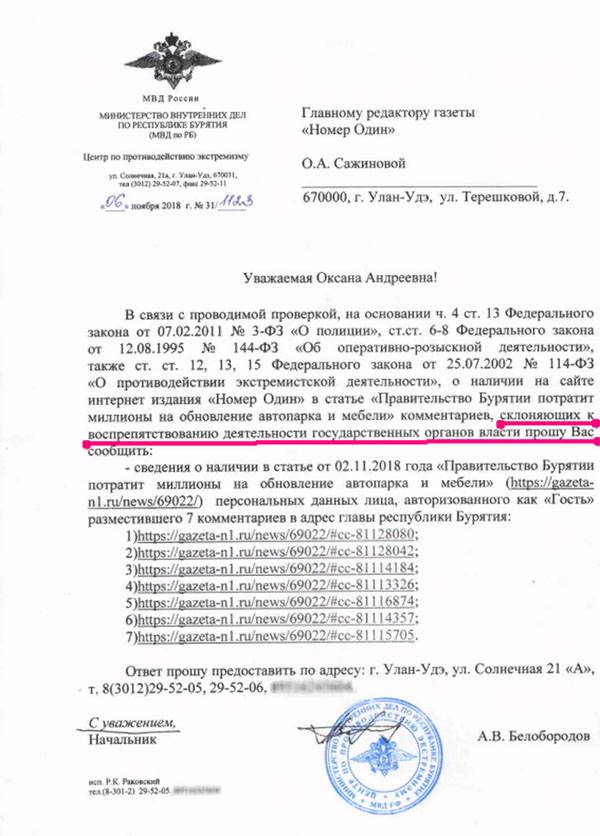 The editors responded with a letter in which they stated that they did not have the right to provide IP addresses, as this would violate the law on personal data.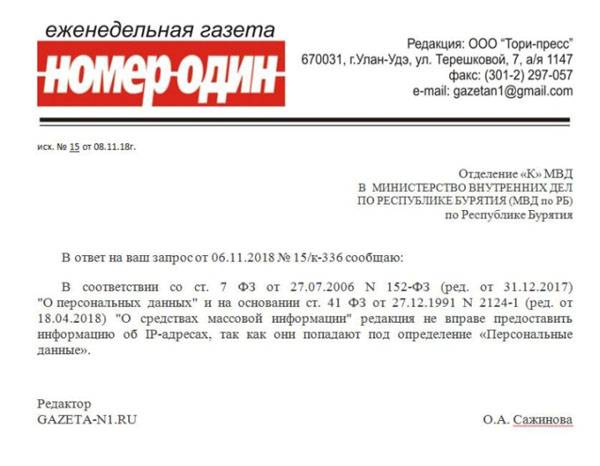 At the same time, the newspaper's editors turned to their readers with a request not to violate the rules for commenting on the materials on the site. It was also noted that there were no questions to the published publication of Roskomnadzor.
But the very fact of requests for the provision of "ah-pi" addresses of readers by the republican bodies of the Ministry of Internal Affairs (and even the anti-extremist division) caused an extremely negative reaction from the reading community. People in the new comments urged the police to investigate the real criminal cases to search for dangerous criminals, rather than trying to settle accounts with ordinary citizens. Many, in protest, began to publish their own IP addresses in the comments under the articles.