The network discusses the so-called experiment of the representative of the "progressive" blogosphere of A. Bardovskaya on the territory of the Republic of Crimea. The blogger, as it turns out, decided in a very original way to check whether there really are no oppressions of Ukrainians in the Crimea, and in fact, representatives of the Ukrainian ethnic group on the peninsula are more than loyal. At the same time, the "originality" of the blogger's experiment consisted in the fact that for some reason she decided to emphasize the Ukrainian ethnicity with the Ukrainian state symbols on the background of the administrative buildings of the Russian Crimea on the Day of National Unity. What is the relationship between the Ukrainian nationality and the flag of Ukraine, the blogger does not comment.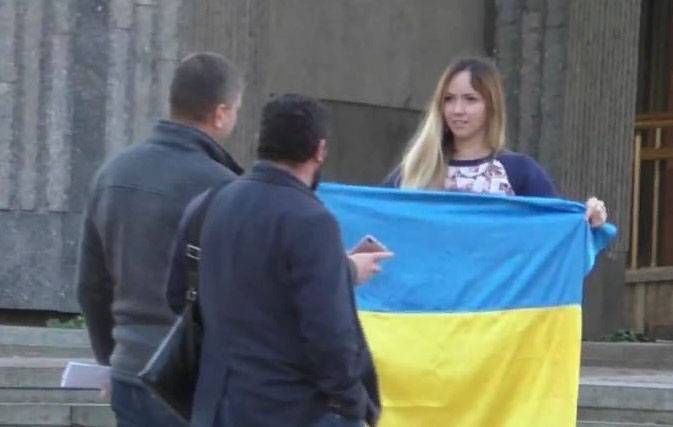 The blogger approached the passersby and asked to take a picture of her on the phone against the background of the buildings of the State Council and the Council of Ministers of the Republic of Kazakhstan, a monument to the Polite People.
After some time, it became clear that the experiment looks more like a blatant provocation. About this Bardovskaya, who herself moved to the Crimea, and was reported by local residents.
From a message from a local resident, Alexander Yuriev on Facebook:
I go with a friend near the State Council. A young girl approaches, asks her to take a picture of her on the phone against the background of the State Council. I take the phone. And then the girl gets the Ukrainian flag. I calmly gave her the phone with the words: We have a free country, you can take a picture with any flags. But you are clearly at the wrong time now, my Motherland has different colors on the flag ...
Bardovskaya:
Everything that happened, I was very upset. I wanted to say, guys, come on, don't be afraid of anything, but something went wrong.
Her companion:
I would refuse to photograph myself. And this idea of ​​Alena is very doubtful. With any other flag - the flag of Zimbabwe, for example, without any problems at all.
The main question is: is this blogger girl really unable to understand that the Crimeans (among whom are hundreds of thousands of ethnic Ukrainians) do not associate the Ukrainian flag with nationality today, but with the Maidan regime that constantly declares its readiness to seize the Crimean Peninsula by force? If not able to understand, is one thing. And if this is a deliberate provocation with an attempt to make the Crimean people "intolerant" towards the Ukrainian nation, then this is quite another. There is a third option: for the sake of likes, reposts and discussions. In any case, her achieved.