Being under the sanctions of a number of foreign countries, Dmitry Rogozin will indeed go to the United States of America. The head of "Roskosmos" was invited by American colleagues, in particular, with the goal of giving a lecture at a US university.
We are talking about a higher education institution, in which the head of NASA Jim Brydenstein was studying at the time. Earlier, this man gave a lecture for students at Moscow State University, the diploma of which is in possession of Dmitry Rogozin.
RIA News
cites the statements of Dmitry Rogozin:
There (in the USA) there will be my presentation at the university, he (Brydenstein) invited me. Since he spoke at my university, I will speak at his.
However, the head of Roscosmos in the USA will not be limited to a lecture at an American university. Dmitry Rogozin will visit the production company "Boeing", which is currently working on the creation of a promising manned spacecraft
CST-100 Starliner
. Speech about the ship partially reusable (no more than 10 times).
Of the characteristics
Starliner
:
crew - up to 7 people, starting weight - 13 tons, length about 5 m, diameter - 4,56 m, useful sealed volume - 11 cubic meters. Term of activity - 60 hours. The duration of autonomous existence is up to 210 days.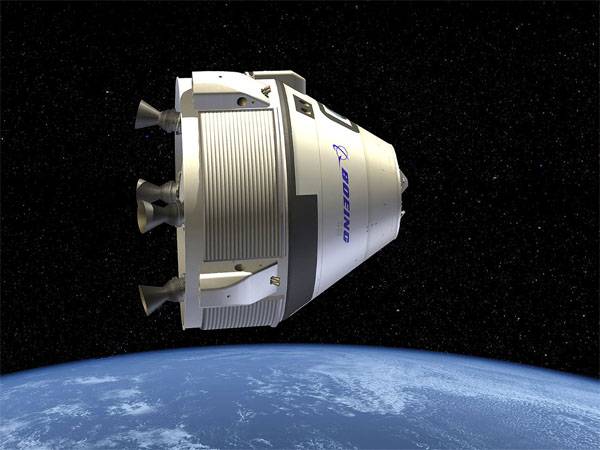 The first test flight of the Starliner was repeatedly postponed due to flaws in the production process. According to the latest data, the first flight in test mode is to take place in March 2019. According to other sources, this can be done on November 27 on the 2018.
This is despite the fact that the ship's initial operation was planned to be launched in 2014 year. The reason for the last transfer of the launch of the unmanned version was the identified anomalies during the test burning of 4 emergency rescue system engines. If we take into account that Americans express their enthusiasm about the effectiveness of the Russian emergency rescue system (in connection with the recent incident), it is understandable why they decided to invite Dmitry Rogozin to the Boeing production facilities.
Recall that at the moment the American astronauts for flights to the ISS are using the services of Roskosmos and the Russian Soyuz spacecraft.