Ukrainian authorities do not comply with the Minsk agreements on Donbass, and this allows the US and the EU to extend anti-Russian sanctions, reports
RIA News
Statement by the Permanent Representative of the Russian Federation to the UN Vasily Nebenzi.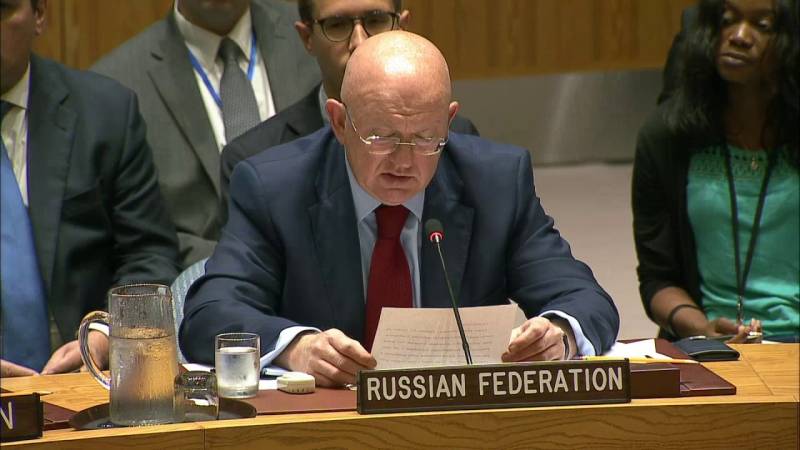 The fact that Kiev does not fulfill the agreement on the Donbass is to blame for the US and the EU, who constantly insist that the sanctions will be lifted when the Minsk agreements are implemented. And since they are not being carried out by the Ukrainian authorities, this position means one thing - an invitation to Kiev to continue sabotage, since Moscow is paying the price, said Nebenya at a Security Council meeting.
In Kiev, they are happy to use it, he noted.
The same with the elections in the Donbass: Kiev did nothing to carry out the political part of Minsk, but loudly protests when Donetsk is going to fill the vacuum formed after the assassination of the DPR leader Alexander Zakharchenko, the permanent representative said.
West indulges Kiev. Meanwhile, the Ukrainian Armed Forces do not comply with the cease-fire agreement and have already advanced 15 km inside the "gray" zone. The Kiev authorities stubbornly deviate from the fulfillment of their political obligations, trying to launch in Minsk a discussion of the issues already agreed on the second round.
Nebenzya pointed out that the West actually completely ignores the "total and shameless sabotage" by Kiev of the Minsk agreements from the first day, does not notice the Nazi marches in Ukrainian cities, justifies any actions of the authorities. There is even a hashtag on the web:
"Onizhedeti"
, which means: "Well, what to take from them, they will be pampered and everything will pass."
He recalled that Pushkin has such lines: "Ah, it's not difficult to deceive me, I myself am happy to be deceived." "This is about you, gentlemen," the Permanent Representative explained.
In Russia, there is a saying: "Matches for children are not a toy." Today, these "kids" go to the torchlight processions and Nazi slogans, and among the natsbat fight in the Donbas. But the West prefers not to see it. He let the genie out of the bottle, and now not only that he does not want, but simply cannot drive him back, Nebenzya concluded.