Urgent reports of the fate of the crew of the Russian fishing vessel "Nord" come. It became known that after lengthy negotiations, the "Nord" crew was exchanged for Ukrainian sailors. This information is confirmed by the press service of the Ombudsman of the Russian Federation. This adds that among the exchanged captain of a fishing vessel is not.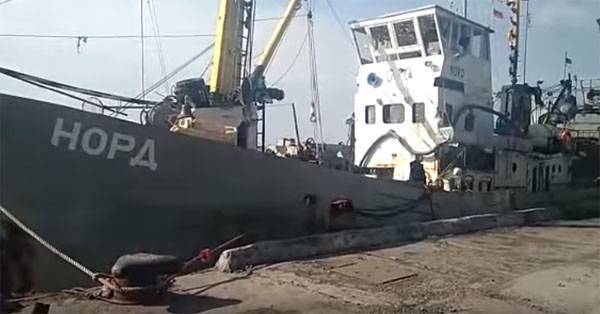 It is noted that the exchange took place, and the members of the "Nord" crew are already in the Crimea.
Recall that during the actual pirate capture of the Nord by the Ukrainian border guards, there were 10 people on board, including the captain. Two managed to escape to Russia earlier. The captain continues to languish in the dungeons of the SBU, and he faces a real prison term - up to 5 years in prison. Seven Russian sailors went through the exchange procedure for seven seamen of Ukraine from the YAMK-0041 vessel detained as part of the "response action".
The Nord itself is located in the port of the city of Berdyansk. Ukraine stated that the vessel was arrested and will now be put up for auction. Starting price - 60 thousand dollars. So far, there were no people willing to take part in the auction.
It is reported that the Russian side is making every effort to ensure that Ukraine will release the captain of the fishing vessel Vladimir Gorbenko. His health condition deteriorated significantly during his detention on the territory of Ukraine.