At the shipyard "Severnaya Verf", work continues on the completion of the rear support vessel "Vsevolod Bobrov" of the 23120 project. At present, the ship has two 50 cranes each mounted on a crane, the Military Survey was told in the press service of the PJSC Shipbuilding Plant Severnaya Verf.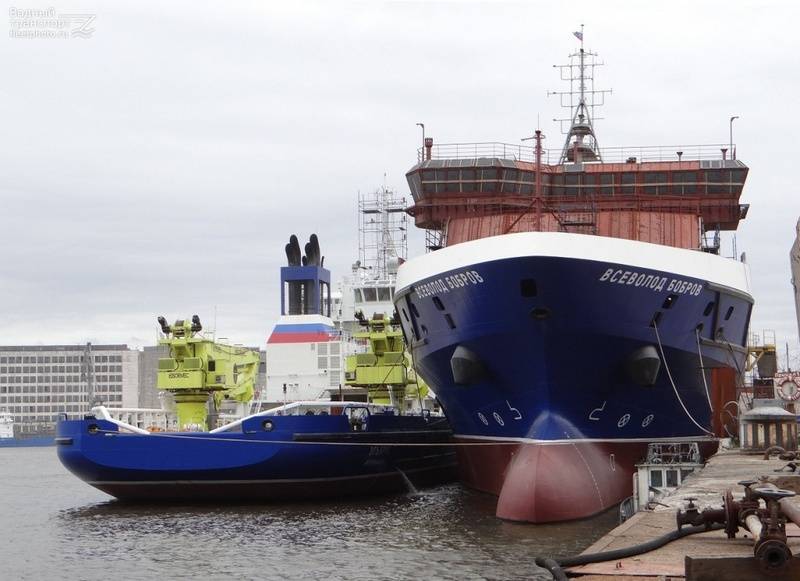 As reported at the Severnaya Verf shipyard, the ship is currently prepared for tightening the cable with a total length of 175 km, work on which will take 4-5 months, after which the installation of the ship's electrical systems will begin. The equipment of the premises has been started, the floors are being poured, while on the first and second tier it is already finished. Preparing the installation of furniture.
The mooring tests of the Vsevolod Bobrov logistics support vessel should begin in the spring of 2019, and the crew will move in early summer. Sea trials are scheduled for late summer - in August. According to the plans of the Ministry of Defense, the ship should be handed over
the fleet
until the end of next year.
The ice-class vessel "Vsevolod Bobrov" was laid in the 2013 year and launched in the 2016. This is the second ship of such a project, being built at the Northern Shipyard, after the head Elbrus and the first serial one.
The 23120 Project Logistics Vessel is intended for the carriage of goods, towing, hydrographic surveys, assistance to ships in distress. The system of dynamic positioning allows you to keep the ship at a given point in all weather conditions. The ship has two electrohydraulic cranes with a load capacity of 50 tons, towing winches with a pull force of 120 and 25 tons, there is a cargo deck of more than 700 square. m. and more. The vessel is multifunctional: it can carry out loading, transportation and transfer of cargo; at the expense of a powerful power plant to tow ships, right up to the aircraft carrier; to participate in rescue operations and provide medical assistance to those in distress (the vessel is equipped with a pressure chamber for decompression); carry out mapping of the bottom topography and search for sunken objects. The hull of the vessel with the ice class ARC4 will allow it to walk in arctic latitudes, overcoming the thickness of the ice in 0,6 m.
Length - 95 m; Width - 22 m; Draft - 9 m; Speed ​​- 18 nodes; Displacement - 9 500 t; Cruising range - 5 000 nautical miles; Autonomy - about 60 days;