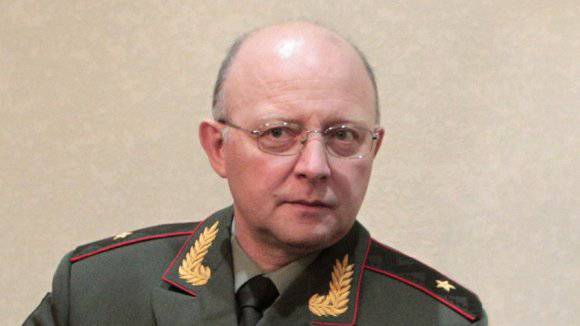 Sergei Chvarkov, who organized the Duma and presidential elections in the army, went to the hospital before his dismissal
The head of the Main Personnel Directorate, Major-General Sergei Chvarkov, who oversaw the training of troops for the Duma elections, will leave the Armed Forces by the end of the summer. According to Izvestia, an informed source in the Ministry of Defense apparatus, Chvarkov resigned himself, writing a corresponding report.
Now Chvarkov is undergoing a military-medical commission before his dismissal in the department of neurology at the General Hospital on Arbat (a branch of the Central Military Clinical Hospital No. 2 named after PV Mandryk) - a mandatory procedure for all retirees.
Now Colonel Alexander Tsygankov, who is appointed acting head of GURSL, will deal with the moral character of Russian soldiers and officers, human rights activists consider him a good officer.
The Chairperson of the Union of Soldiers 'Mothers of Russia Committees, Valentina Melnikova, told Izvestia that, thanks to Tsygankov, a year ago, the problem of non-payment of benefits to wives of conscripts who gave birth to a child was solved.
- was
история
when soldier wives refused to pay benefits. And this question was entrusted to him. We worked with him for about a year on this story. Of course, there were misunderstandings and obstacles, but we nevertheless brought it to the end, "explained Melnikova (now the wives of conscripts when they call their husbands are paid 20 thousand right away and 9 thousand monthly).
At the same time, Melnikova explained that Chvarkov did not succeed in creating a full-fledged personnel management department at the Ministry of Defense.
- We have always called GUVR (Main Department for Educational Work - this is how the Department for Work with Personnel was called) "funeral team" - they organize weddings, funerals, and then meet inspectors. And they must help the officers with hospitalization, with the passage to the place of vacation. These should be the very "fathers-commanders" who support the soldiers and officers, but for now this is the ideological department of the USSR, Melnikova explained.
According to her, "in battle", Sergei Chvarkov did not have time to show himself.
- We intersected with him only once, at the Human Rights Council under the President of Russia. And he struck us with a lack of restraint — he was not listening, he did not penetrate into what we told him. Instead of answering questions, say "come to me", etc. "In general, there was not enough officer gallantry in him," Melnikova remarked, not without irony.
In her opinion, the person in charge of working with personnel in the army should "firstly, not be afraid of people, secondly, respond correctly to signals about what is happening in the units. And thirdly, it should not be committed by the fact that the state is always right, and the soldiers are always wrong. "
Chvarkov himself denies his dismissal, claiming that he is undergoing a regular medical examination.
- Once a year we are obliged to check health. I did not write any reports; I don't know about the decisions of the management about my dismissal. I am on a routine medical examination, - said the head of the department for work with personnel.
The Office of the Press Service and Information of the Ministry of Defense refused to answer questions from Izvestia.
Sergey Chvarkov was one of the organizers of training in military units for the Duma and presidential elections in December 2011 and March 2012. He coordinated advocacy and advocacy work among military personnel.
To this end, a powerful "general's assault" was organized in large garrisons and remote military units - high military ranks went to the units and told the soldiers and officers what successes the military reform of recent years had achieved.
Chvarkov's predecessor in this post, Anatoly Bashlakov, is serving a sentence - seven years in prison for taking a bribe in 700 thousand rubles. And Bashlakov's predecessor, Nikolai Reznik, died after an unknown man beat him in 2008 in his own summer cottage.