For the MiG-31BM fighter-interceptor, an upgraded version of the radar system is being developed, greatly expanding its capabilities, reports
Interfax
the press service of the Ministry of Defense.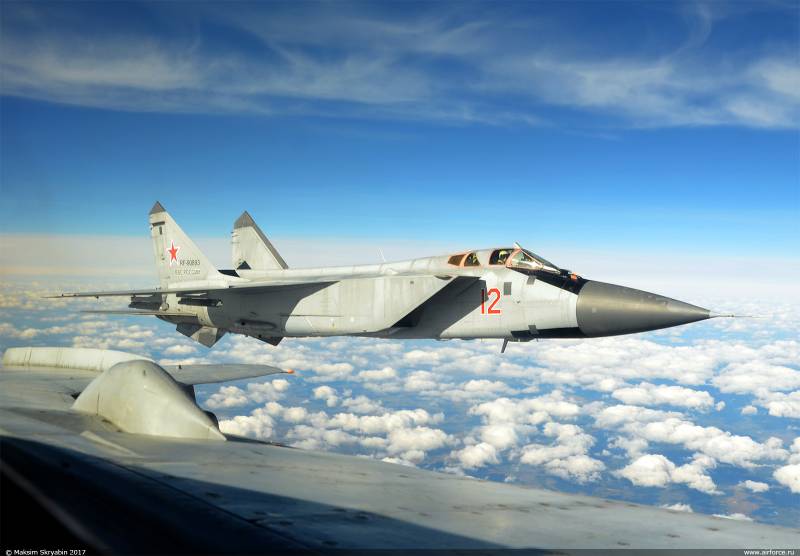 The issue of developing a radar modification was discussed at a meeting of Deputy Defense Minister Alexei Krivoruchko with the leadership of Zaslon JSC.
Krivoruchko "supported the modernization of the unique radar complex for MiG-31BM aircraft, which significantly expands its capabilities," the report said.
He also instructed manufacturers to speed up the process of testing the radar complex for the 20380 corvettes.
MiG-31BM modification interceptor MiG-31, adopted by 1981 year. A deep modification is being carried out by the MiG branch - the Sokol aircraft plant (Nizhny Novgorod). The machine is equipped with a radar system "Barrier-AM". The range of detection and destruction of targets is more than two hundred kilometers. The interceptor is capable of simultaneously destroying 6 and tracking up to 10 targets.
The MiG corporation (included in the UAC) unites in its structure the profile enterprises that provide all the elements of the life cycle of the aircraft produced - from the development of the concept of mass production and technical support.
JSC "Barrier" - a developer and manufacturer of high-tech products. In its activities, the company interacts with such industrial companies as Tupolev, Sukhoi, MiG, Kamov, Almaz Central Maritime Bureau of Design, the majority of shipyards, various ministries and departments.