Crews of missile ships "Dagestan" and "Tatarstan" Caspian
flotilla
(CFL) during the exercise struck a conditional enemy with cruise missiles of the Caliber-NK complex, reports
RIA News
message of the representative of the Southern Military District Vadim Astafyev.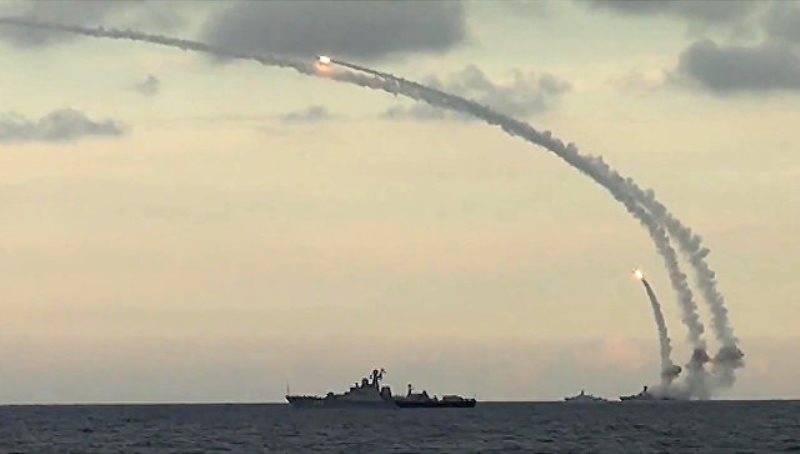 According to Astafiev, the Caliber strike was struck at coastal targets from a distance of more than 100 nautical miles. All objects were successfully hit.
He explained that the shooting was carried out in the framework of the bilateral command-staff exercise (KSHU), led by the commander of the Southern District Colonel-General Alexander Dvornikov.
"Dagestan" and "Tatarstan" completed the task of defeating critical enemy targets located on the island of Chechen, Astafyev added.
He also reported that during the drawing of tactical episodes of the KShU in the mountains of North Ossetia, the TOS-1А "Solntsepe" flamethrower systems were used.
According to him, TOC-1А was used to support the actions of assault groups and looting at the stage of preparation for the transition to the offensive of motorized riflemen.
According to the plan of the exercise, the advanced units met with fierce resistance from the "enemy", entrenched in the way of the advance of the main forces. The blow of the flame-thrower company TOC "enemy" was destroyed.
The representative of the Southern Military District also said that at different stages of the command-staff exercise, up to 7, thousands of servicemen are involved in working out the tasks. In total, more than 2,5 thousand units of equipment, including about 60 helicopters and 20 airplanes, are involved.