Today at midnight the most important event took place, not only for the Crimean Peninsula, but also for the whole country. Opened freight traffic on the Crimean bridge.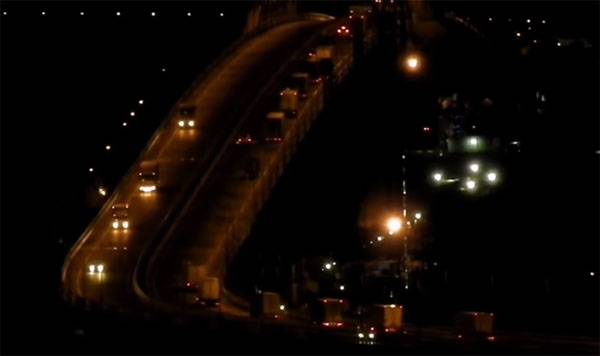 Thus, all restrictions on the section of the A-290 highway, which operated during the so-called high holiday season, were lifted. And the first trucks last night went from the Crimea and to the Crimea on their own - without using the ferry, which always had to work with the adjustment for the weather.
Recall that previously there was a temporary restriction on traffic on the Crimean Bridge for vehicles with a total weight of more than 3,5 tons.
From an interview with one of the Russian holidaymakers in the Crimea:
Communicated here with a rest Ukrainians. They ask how you (Russians) today get to the Crimea, if the border from Ukraine is closed? The answer is: on the bridge, of course. Long looked at me with round eyes. Imagine, they still do not believe that the bridge has been built, and that it is moving along it. And now the trucks will go. Here's how they can prove something? Many Ukrainians even go to Kerch on purpose to look at the bridge, which they are told in Kiev that he is a figment of the Moscow imagination.
Recall that the year 2019 is scheduled to launch a rail link with the Crimea on the same Crimean bridge. This, according to calculations, will significantly increase both passenger and cargo traffic from the peninsula to the peninsula, and will give the economy of the Crimea and Sevastopol a powerful impetus to development.
The YouTube channel of Igor Korsakov shows the first footage of the movement of trucks on the Crimean bridge. It is noted that the first stream of trucks from the Crimea in the direction of the Krasnodar Territory went about three minutes first.