At the Center for Research and Testing of Materials (CIMM), Uralvagonzavod reports a previously identified problem with large-sized parts of the Terminator BMPT. The point is that there were problems when performing high-quality welding. The reason, as it turned out, was as follows: the nodes of special steel were magnetized, and their magnetic field prevented the welding work at the proper level. The press service of the UVZ reported that at that time the Terminator BMPT was actually being prepared for the Victory Parade on Red Square.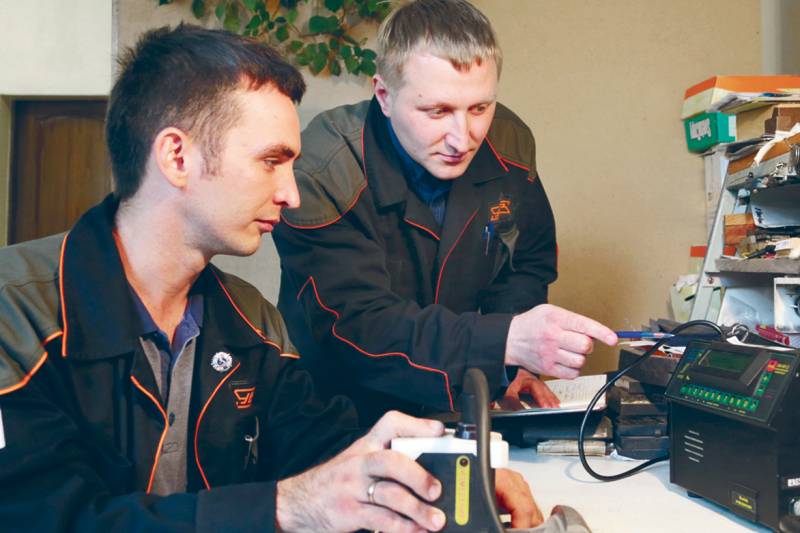 To remove the residual magnetization were considered three main ways.
Method one
: heated to temperatures in the range 760-780 degrees Celsius.
Method two
: mechanical impact - for example, strong shock or vibrating waves.
Method Three
- magnetic field of opposite orientation. The first two methods were abandoned, since they could damage the material from which the parts were made. There was a third way, but its application was extremely problematic due to the dimensions of the parts.
From the press service
UVZ
:
It was necessary to disassemble the practically ready protection elements for the Terminators into small parts, remove the magnetization from each of them and assemble them again.
A more rational solution was proposed. Engineers manufactured additional magnetic cores by installing them in a magnetic powder universal flaw detector. This made it possible to increase the magnetic field of special equipment by about 50%. In the end, these indicators of a magnetic field of opposite orientation were enough to demagnetize large parts of the Terminators.
UVZ:
"Terminators" made and sent to the Victory Parade on time.
As a result, the idea of ​​Uralvagonzavod engineers received the status of the rationalization proposal "Method of demagnetization of large-sized parts of the nodes". This made it possible to reduce funds for the demagnetization of military equipment.
In 2018, UVZ expects savings from this and other rational proposals in the amount of about 44 million rubles.
For reference: The first military exercises with the use of BMPT "Terminator" will be held in the Urals in 2019 year.