Dmitry Tymchuk, one of the main newsmakers (from among the deputies of the Verkhovna Rada of Ukraine), presented the Ukrainian media in an interview
"Apostrophe"
another judgment about the retrospective options for the development of the armed conflict in Ukraine. In this case, Tymchuk reflected on the topic "which prevented Putin from taking Kiev."
According to Tymchuk, Putin, even in 2014, could freely walk to the Ukrainian capital "against the background of post-mayhem disorientation." Tymchuk, who at one time played the role of a "talking helmet" in the structures of the Armed Forces of Ukraine, now criticizes the actions of the Ukrainian military personnel of that period. Nardep VRU declares that the security forces in 2014 were actually inactive, and this would have allowed "Putin to get to Kiev, but he didn't, because he understood that Russia would face unpleasant consequences."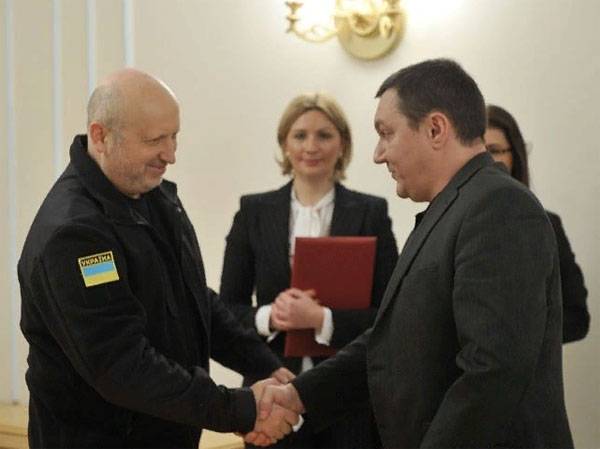 Next Tymchuk reflects on the modern strategy of defense of Ukraine. According to him, Ukraine still does not have it. Tymchuk notes that the command and research centers do not work in advance, but only react to what happened. As an example, a people's deputy I LIE cites the situation in the Sea of ​​Azov, where they decided to "strengthen" the Ukrainian Armed Forces "only now."
Tymchuk also spoke out about the statements that someone in Ukraine believes in the thesis of the Russian economy being torn to shreds. According to the People's Deputy of Verkhovna Rada, the Russian economy survived against the background of the sanctions in 2014-2015, and was able to adapt to new challenges.
From the interview:
She (Russia) is restructuring its economy in the light of new realities. Let it not work out a new Soviet Union, if only because it cannot exist without Western technologies, but at this stage I would not say that they will glue fins together tomorrow, the Russian economy will go into collapse, Putin will shoot himself, and everything will be fine. We do not need to rely on this.