The amphibious aircraft Be-200 will be able to stop on the water without gliding, said during the international exhibition Gidroaviasalon-2018 ", which is currently taking place in Gelendzhik, the general director and general designer of the Beriev Scientific and Technical Complex named after Beriev Yury Grudinin.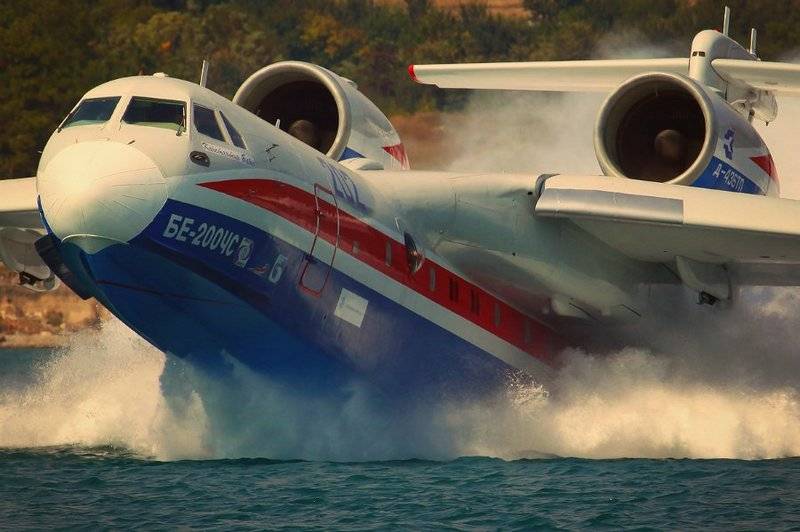 According to Grudinin, at present, the designers of the TANTK have already created a special reversing device, which will make it easier for pilots to land on the water, bypassing the gliding stage. He explained that gliding is a very difficult landing mode when the plane is held on the water due to its velocity head and requires tremendous concentration and skill from the pilot. The new device, installed in the future on the Be-200, will allow pilots to stop the plane without this stage.
Meanwhile, TANK them. Beriev, producing the Be-200, will offer the market two versions of the aircraft. As the manufacturers explained, one version will be equipped with the Russian-French engine SaM146, and the second - with the Ukrainian D-436.
TANK stated that they did not stop working with the Ukrainian enterprise Motor Sich and are considering the possibility of equipping an amphibious aircraft with a modernized D436-148 Ukrainian engine in the future. Currently, the Be-200 is also equipped with a Ukrainian D-436TP engine manufactured by Motor Sich.
By 2020, the United Engine Company plans to re-engine the Be-200, installing the Russian-French engine SaM146 on it.