After reports from China that one of the stages of testing of an amphibious aircraft was completed, in our country they began to talk about readiness to revive a previously existing Soviet project.
RIA News
With reference to the press service of the United Aircraft Corporation reports on work on the project to resume production of the A-40 Albatros aircraft.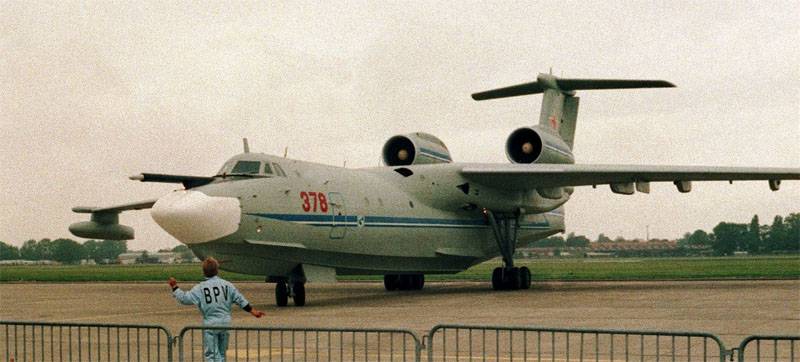 Such a statement appeared before the beginning of the exhibition "Gidroaviason-2018".
Previously, informed sources reported that the A-40 "Albatross" will replace the amphibious aircraft Be-12 by the year 2020.
The first flight of the world's largest amphibious aircraft took place in the USSR in 1986 year. After the collapse of the Soviet Union, the project was actually frozen. In 2012, Russia announced its final closure. However, in 2016, statements from individuals in the aircraft industry and the military sphere began to appear that it was time for Albatross to set back on the path to the implementation of the previously created project.
For your information:
A-40 - multi-purpose aircraft. The maximum take-off weight of A-40 is 90 tons. Crew - from 4 to 8 people (depending on version). Maximum speed - 800 km / h. Patrol time - up to 12 h. Practical range - 4 thousand. Km. Seaworthiness (wave height) - 2,2 m. Combat load - up to 6,5 tons of various weapons, including (primarily) anti-submarine. On the plane set about one hundred and fifty world records.