NATO has responded to statements by Russian officials that by 2022, 132 units of armored vehicles on the Armata platform will enter the troops with the further transfer of dozens of such armored vehicles to the troops. First of all, attention is drawn to which parts in the territory of the Russian Federation will receive the first serial
Tanks
T-14 "Armata", the characteristics of which are carefully studied by the "partners". These are units in the territory of the Western Military District, and therefore NATO is already declaring the need for a "technological response".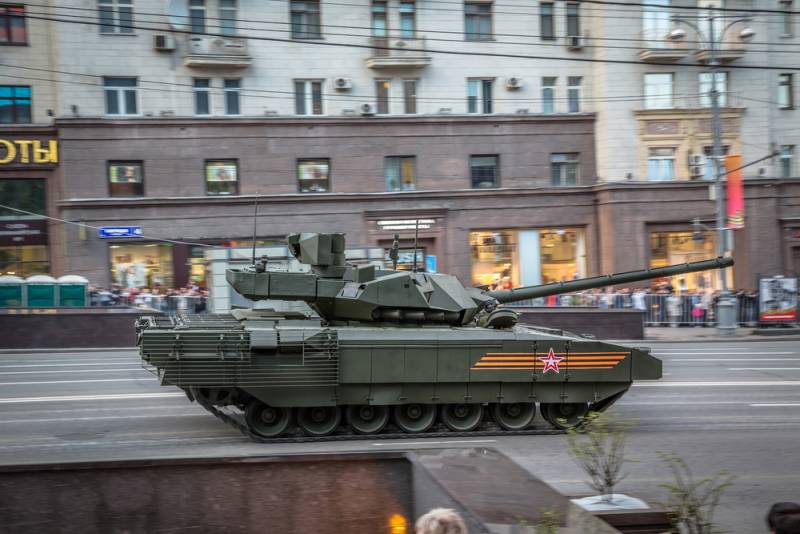 Talks about the "technological response" in the North Atlantic military bloc are going on against the background of news from the US military about the actual uselessness of heavy armored vehicles transferred to the Baltic countries, including Abrams tanks, which participate in endless exercises and maneuvers at various levels. It is noted that the scenario itself maneuvers often have to be reviewed already in their process - due to the fact that the tank units of the US Army simply can not pass the entire predetermined route. The Baltic infrastructure is simply not ready to "let through" heavy armored vehicles in the volumes necessary for NATO in the necessary NATO terms. The problem, including, in the "unintended" bridges. Therefore, the exercises are transformed into "parquet" and "demonstration" instead of real, with the development of tactical positions, as noted by the participants themselves.
At the same time, it's noted in the blogosphere of Western countries that Russia can turn this minus of NATO in the Baltic States into its own plus. And "for this very purpose", the Armata platform was created, which will be a horror for NATO armored vehicles in the Baltic States. In other words, the discussion in NATO circles boils down to the fact that the newest Russian armored vehicles "have secret opportunities that will allow it to operate effectively" in the conditions of the "Baltic swamps."
A concrete example is also being discussed, when the Russian tank T-14 "Armata" will be more effective than Western models. As an example, given the German technology and "weakened defense of the turret of the tank" Leopard-2 ". It is weakened, as noted, by the use of the PERI-R17A1 panoramic surveillance device. Placing the device in a special shaft in the front (frontal) part of the tower reduced the size of the reservation. At the same time, PERI itself may be ineffective in forest belts and on rugged terrain, making the "poorly protected tank easy booty of" Almaty ". At the same time, the specific "secret possibilities" of the Russian T-14 Armata are not reported. Like the gopher, which no one sees, but he is?
Apparently, the purpose of discussing this topic in NATO circles is to request new funds for the needs of the alliance, which, having come close to the borders of the Russian Federation, continues to assert that Russia is the main threat. Under this "threat", explicit tales are written about the transformation of the Baltic states with its forests and marshes into a tank battlefield.