According to the chairman of the board of the Pension Fund of Russia, Anton Drozdov, raising the retirement age in the context of improving the pension system is an extremely necessary measure. Drozdov explained that the budget of the Pension Fund is directly dependent on the funds that come from the federal budget. Today, the volume of such funds is about 3,3 trillion rubles, that is, more than a third of the budget of the PFR. The lack of reform in the pension system will inevitably lead to an increase in the transfer to the Pension Fund budget to 5 trillions of rubles. This step, in turn, will lead to a budget deficit of the PFR, which will not be able to provide a significant increase in future pensions, their purchasing power will be very low.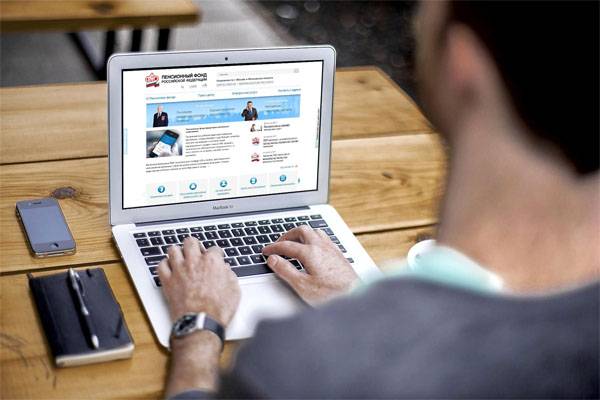 Photo on the official page of the FIU on Facebook: with a website of the FIU a person works on a gadget, on the keyboard of which the Cyrillic alphabet is missing
Recall that the process of raising the retirement age for the male population to 65 years, for the female population to 63 can be launched in the 2019 year and will be phased. The corresponding bill was introduced to the lower house of parliament, and in the fall its second and third, final, reading will be held. This document notes that the proposal to raise the retirement age will allow annually indexing pensions above the inflationary level, subject to the financial stability of the pension system as a whole.
Anton Siluanov, who heads the Ministry of Finance of the Russian Federation, also gleefully assesses the changes that will occur in the pension legislation if the bill is passed. He is confident that the improvement of the pension system in Russia will significantly increase the standard of living of its citizens, and this in turn will have a positive effect on the economic development of the state.
What prevents the use of other mechanisms for pension reform - without raising the bar for the retirement age - is not reported either by the FIU or the Finance Ministry.