A rally within the All-Russian protest against pension reform, organized by the communists in St. Petersburg, gathered about 5 thousand people on Saturday, reports
EADaily
.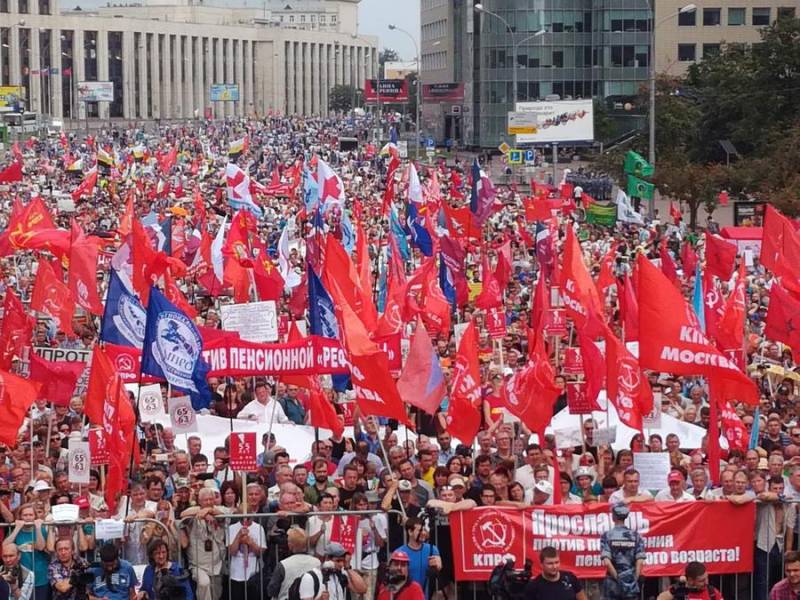 This event was the first coordinated action in the city on the Neva after the World Cup 2018. The rally was held at the Finland Station. It was attended by representatives of various parties and movements - from the left to the anarchists.
As the representative of Yabloko, Boris Vishnevsky, said, the deputies who voted for raising the retirement age have their conscience atrophied.
Representatives of the Communist Party of the Russian Federation called for a campaign to recall the deputies who are poorly versed in domestic policy.
Are we, having worked all my life, do not deserve these pension crumbs? It is necessary to withdraw the deputies who supported the pension reform! In addition, we have the Constitutional Court, where we also need to defend our rights,
said a member of the Communist Party Marina Zvereva.
She also recalled the problems with housing and communal services and the so-called free medicine, many of which people are unable to pay.
Members of the Russian socialist movement announced the beginning of work on holding pickets against pension reform in August so that by September, when a new wave of protest actions is launched, a larger number of citizens will be mobilized.
We do not ask about the political views of those who apply to us, we simply unite with opponents of reform, otherwise it will pass, and it will not give anything good to society,
said the representative of the motion.
Portraits of deputies of the State Duma and the Legislative Assembly of St. Petersburg, who approved the reform, at the end of the action were defiantly thrown into the trash bin.
The resolution adopted by the protesters said that if the reform was adopted, the Russian government would have to resign. Government resignations were also demanded by residents of Ulyanovsk, Kalga and Volgograd.
In Moscow, according to the Communist Party of the Russian Federation, about 100 thousand people came to the rally. Participants in the event called the pension reform "predatory".
People went under the slogans "There is no pension reform by Medvedev!", "Pension reform - the forerunner of the demographic abyss!", "Down with the capitalist ministers!" And others.