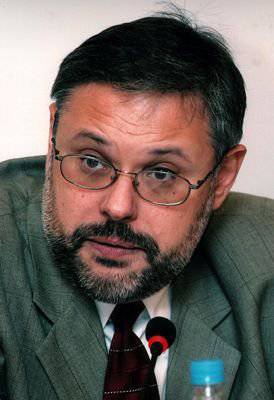 I have already returned to this topic many times, however, in the words of one of the founders of Marxism-Leninism, it is "inexhaustible, like an atom," since the total number of nonsense that representatives of the elite do today clearly exceeds all imaginable and inconceivable limits, but they do not stop. Moreover, even the understanding of the need to radically change the ideology does not lead to any results, everything continues to be the same - that is, the structure of power continues to be shaken. Why is this happening?
It seems to me that the fact is that if the elite exists in more or less stable conditions during the life of one generation (conditionally - 20 years), then internal institutional ties are so strengthened that overcoming them naturally becomes impossible. Well, let's look at today's Russia. It has a mass of influence groups related to regions, industries, large property complexes, budgetary flows, and ministries. These groups throughout this time created a colossal complex of official and unofficial rules and documents, with which they defended their positions and legitimized their status. At the same time, informal rules include marriages of children, joint investment projects, neighborhood relations, and so on and so forth.
At the same time, the majority of those involved in these relations (for example, those who manage the personal property of officials) do not understand anything about the crisis at all. At best, they see that property income is falling, and this requires them to be more active, including using the administrative position of the "patron", since otherwise one can lose the "bread" place. As for those who understand something, they are in an already extremely "balanced" system of relations, in which far from everything depends on them and, most importantly, in which specific levers of control are not in them, but in some specific performers.
I remember well how when I was the head of a department in the Ministry of Economy I "punched" important papers. It was necessary to personally go through the ministries, negotiate with the executors, sometimes it is a trick to sign these papers not with the supervising deputy ministers, sometimes to bring them directly to the ministerial level. But there was still the government apparatus, where, too, it was necessary to be "smart". At the same time, there were problems inside the ministry, and here, too, it was necessary to know who, how and why. Already at the level of a deputy minister, such an opportunity is practically lost, for ministers it is practically excluded. But today our minister is a purely executive figure, he is not supposed to think - just look at the personalities. And this means that those who think cannot even break through the bureaucratic obstacles at least something that contradicts the general bureaucratic interests.
In this sense, the experience of the Economic Department of the President of 1997 - the beginning of 1998 - is very indicative. We (for the last time, we will note) managed to gather in the presidential administration a more or less integral "image" of the government - that is, to describe what, how and why it does. Both in terms of strategic objectives, and on individual issues. And we immediately became the object of an incredibly strong attack - not because we interfered (not so strongly interfered, for all the time we managed to cancel no more than a couple of dozen projects of government decisions, and the most harmful ones still managed to push the government), but simply because this picture was not consistent.
Based on this picture, President Yeltsin tried many times to somehow change the goals of the government's actions, for example, to develop and adopt an industrial program and a program of economic restructuring, but he was simply cynically ignored (see, for example). But Yeltsin, in the end, removed the government, although, leaving, for the most part, personalities on the spot, so there was no fundamental change.
By the way, we note a remarkable situation with industrial and structural programs - the modern Russian elite, first of all the bureaucratic one, categorically refuses to do this work, like 15 years ago. And this is not an accident. All financial flows have long been distributed and shared. Sharing them again is difficult and disrupts the usual rhythm of life. If the president wants something - let him find new money, prove that they are not taken from any of the existing clans, and then let him give someone what he wants. He has no authority to redistribute "alien" money.
And it is clear why no one has such a right, because it stimulates intra-elite wars that drastically reduce the stability of the elite as such, putting it at serious risk. And it is not so important that this threat is already on the nose, because it will still not come today, and maybe not tomorrow, and the redistribution will be today. And for this reason, it is impossible to categorically allow him to be "self-made" to anyone.
It is for this reason that many in the Russian elite did not want Putin to return. The "family" group, most likely, played a key role here, since it was she who in the late 90's - early 2000's agreed with the main representatives of the Russian elite to solve all problems amicably. But the leaders of this group in the economy do not really understand, they are tightly oriented towards liberal models and for this reason, they most likely believe that the situation will worsen, of course, but not critical.
Putin, most likely, has a different opinion - he, as I have written more than once, most likely understands that the elite will have to be thoroughly "cleaned" (for absolutely objective reasons), and he translates his understanding to everyone, including "Family" group, which understands that it has a serious chance to get under this purge. And the more she intrigues against Putin, the greater this chance, and the more she intrigues.
What is the end of the matter, we, in general, are not very interesting, but simply this is a very typical development of the situation for any elite. Only in the West such groups are not one and not two, but dozens, if not hundreds. And as the crisis develops, such intra-elite clashes only intensify, and it's another thing that, unlike us, they practically don't get into the media. And it is clear that in such a situation it is simply impossible to make any reforms by consensus, since any reforms strengthen some and weaken others - and the latter insert all possible sticks into their wheels.
And before the appearance of a hard dictator who can break a system, is still very far away. Not only is the modern bureaucratic system severely restricting the career movement of "strong" people (I see it well by the way those who I knew knew from time to time in the civil service, are rejected by the system, and stupid opportunists make their career and unprincipled cynics), there is still no more or less intelligible "image of the future."
We all look to see if Napoleon, Boris Godunov or Stalin can grow out of Putin, but the latter had an action program, which they implemented. At the same time, he, and the other, and the third came to power after the revolution, but we still did not have it. And in this sense, the main question is: what, in fact, should Putin do today? Clean the elite under the size of the cutting "cake"? Yes, of course, he will do it to the best of his understanding. So what is next?
Actually, this is the main problem. True, so far, in Putin's entourage, there is practically no one who could even put it - but this is where we will see. If such people appear, Putin will have prospects. If not, then no. By the way, this is a problem not only for Putin, but for the whole world. I have already said that we are in this sense a typical example today - there are also no people in power who have an image of the future. And the existence of the West in the same way depends on whether it can find and introduce such people into the elite. And if not, then in a few decades the world will be completely different.