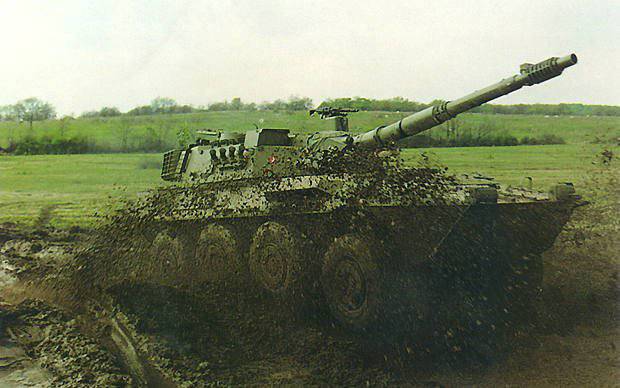 The Ministry of Defense of the Russian Federation in Bronnitsy near Moscow conducts assessment tests of two Italian heavy wheeled armored vehicles of the B1 "Centaur" (Centauro) type, also classified as fighter
tanks
. This was reported today by ITAR-TASS a source in the military-industrial complex of the Russian Federation.
"Testing of armored vehicles produced by the Iveco-Fiat / Oto Melara consortium (Iveco Fiat-Oto Melara) has been carried out for several days with high intensity day and night, all systems, assemblies and machinery mechanisms are subjected to rigorous testing," said the source.
He, however, did not specify whether the Ministry of Defense of the Russian Federation plans to purchase a license from Italy for the production of such machines at Russian factories.
The armored vehicles are armed with various guns: the 105 mm caliber gun is mounted on one of the machines, the 120 mm is specified on the other, the source specified. And it is the 120-millimeter gun that provides the armored vehicle with firepower at the level of modern main battle tanks.
According to open sources, the combat weight of the Chentauro with 105-mm guns is 25 t, the speed is up to 100 km / h, the crew of the 4 person.
Armored "Chentauro", according to experts, has high maneuverability and good handling. However, their disadvantages include weak booking, which protects only from bullets of large-caliber machine guns.
"Chentauro" was used in Yugoslavia, Somalia and Iraq. Moreover, armored vehicles of the Italian army, which participated in peacekeeping operations in the Balkans, were equipped with additional armor.
Currently, Chentauro is used as part of the UN military contingent in Lebanon.
The company "Oto Melara" is included in the Italian concern "Finmeccanica". Chentauro type armored vehicles are manufactured by Iveco-Fiat from 1991.
Tests of armored vehicles are conducted at the test site of the 21-th Scientific Research Testing Institute of the Russian Defense Ministry. One of the main activities of this research institute is the development of tactical and technical tasks for almost all types of domestic military vehicles.