The US State Department is spreading a statement that Washington is in favor of a complete cessation of hostilities in southern Syria - in the provinces of Dara and Kuneitra. It was stated that during the recent negotiations, US Foreign Minister Mike Pompeo and his Russian counterpart Sergei Lavrov had raised this topic. Pompeo said he had warned "the forces of the Assad regime and their Russian allies against unilateral actions."
It is noteworthy that these statements from the State Department were made on the very day when militants of groups affiliated with Al-Qaida (* banned in Russia) tried to break through the positions of the Syrian government army in the Golan Heights area. At the same time, it becomes clear that the aim of the terrorists was not so much a breakthrough as such, but a desire to force the CAA to carry out an attack, which could somehow affect the adjacent Israeli territories. The militants are well aware that in the event of any CAA ammunition entering Israeli territory (even if the territory's membership is disputed by Damascus), Israeli troops will certainly strike - and precisely against the positions of the CAA.
The State Department said it was watching with concern how Syrian troops were deploying new and new military equipment to the south of the country. We are talking about artillery pieces, many of which are installed in the bodies of trucks, about
tanks
T-72, pickup trucks armed with heavy machine guns or anti-aircraft guns.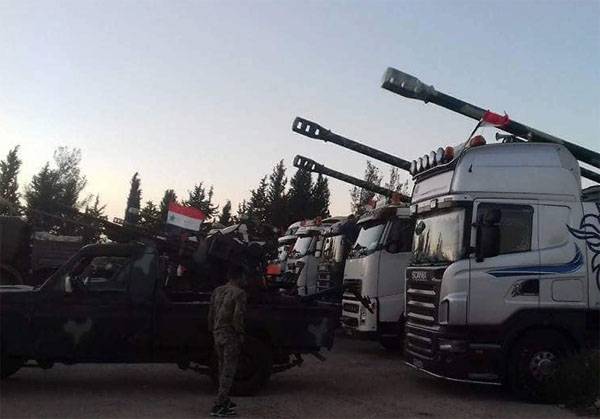 For some reason, the US State Department did not express concerns when the terrorists at one time were close to completely taking Damascus.
By the way, the State Department did not answer the question of what measures the United States intends to take in the event of the start of the CAA operation in Dara and Quneitra.