The lead hydrographic vessel of the catamaran type project 23370G will be laid for the Russian Navy in the third quarter, according to
press office
Ministry of Defense of the Russian Federation.
This vessel will be the first catamaran boat built in the interests of the Navigation and Oceanography Directorate of the Ministry of Defense of the Russian Federation for use by the hydrographic service
fleet
. It will be used in a wide range of studies in the marine area.
The construction contract has been issued to KAMPO. It is planned to build a series of boats of the 23370G project, "equipped with modern means of studying the bottom topography, conducting hydrometeorological observations and maintaining navigation signs," the release said.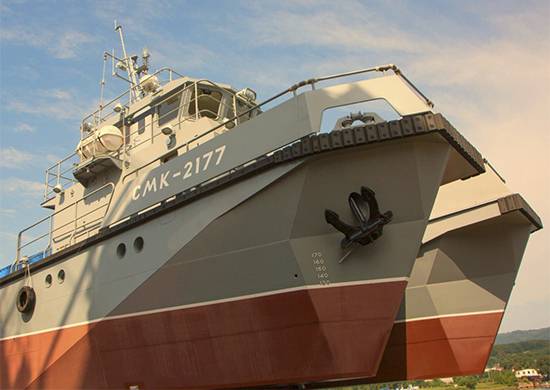 It is noted that all vessels of this series will be named in honor of the famous Russian pendants.
The press service explained that the modular hydrographic boats of the 23370G project are a new version of the multifunctional 23370М vessels being built by the Moscow Region enterprise for search and rescue units of the Navy.
Catamaran boats have already proven themselves positive in terms of reliability and efficiency. Their displacement - 130 t, autonomy for water reserves and provisions - 5 days, the cruising range of the economic course - up to 300 miles, seaworthiness - 5 points. The crew of the vessel - 7 people, speed - 13 nodes.