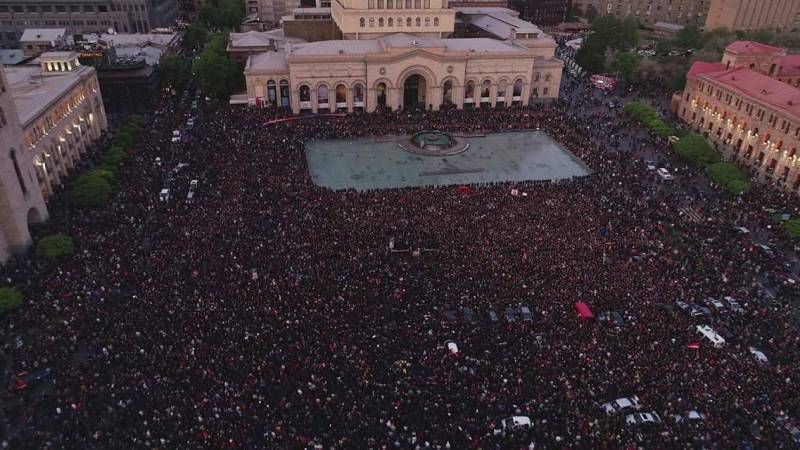 "Considering the above, I would like to make it clear to the Armenian people that this is your choice. We cannot forcibly save Armenia from the troubles that she herself wants to call upon herself. This is the most offensive, the most unpleasant ... "
M. Leontyev
Something like that, something like that. For some reason, everything turns out in the most clumsy way. In general, the comrades Armenians were told in the face of an extremely harsh and unpleasant truth that caused a lot of resentment. And a furious, violent rejection. And then the old theme about some kind of "friendship" and evil creatures who undermine it ...
Old songs about the main thing. I will say in general: I do not see great prospects for Russia in the post-Soviet space, no matter how offensive it is to someone. And everything goes wrong, and everything goes the curve of the curve itself ... In general, analyzing all these post-Soviet disgraces, you involuntarily come to such sad conclusions. Simply, there is such a simple and understandable indicator for everyone, such as returns in relation to costs (ratio). Here for the post-Soviet space, it will be minimal for us, and we must accept this.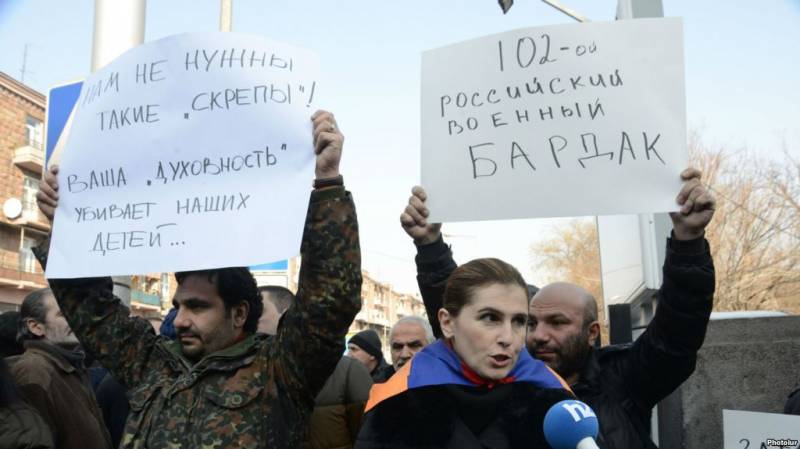 Accordingly, it is necessary to talk about some large projects with a very large reservation. Because almost all residents of the post-Soviet space for some reason do not quite adequately perceive the surrounding reality. And to reach them is almost impossible. That is, people at first very subtly hint, they do not hear. Then they just hint ... Useless. Then they hint at them very thickly ... Full "ignore". Then they are told in plain text. Here there are certain "insults" (allegedly this is an attempt on the sacred friendship of all peoples), but understanding does not come.
Then they are already explicitly stated certain things in a very rough form ... Here begins the uniform hysteria. Sometimes you have to "resort to direct violence," as happened with Ukraine. There you can observe the whole range of relations, from the Big Treaty of Friendship to the almost complete rupture of relations. With Ukraine, at first, they spoke very friendly, then ... In general, 40 shades of diplomacy. But understanding in the heads of Ukrainians did not come ... Then their state was simply kicked out of the Crimea. Yes, carried on kicks.
And here began the same shaped hysteria. From their point of view, everything was good, great, and then, suddenly ... That is, the collapse of the economy, the war and the loss of territories is perceived by them as something external, hostile and in no way dependent on them. And for us something for scho? And even the health kicks in the Crimea and under Debaltseve brought no enlightenment to the Ukrainian heads. Completely hopeless case.
Strictly speaking, this is why the "country of Ukraine" is doomed. Was doomed initially. People inadequately perceive the current reality. Totally inadequate. And these people do not learn anything and do not react to any signals. By the way, the same
story
repeated in the relations of Ukraine and the West after the Maidan-2. Frank lies, theft, failure to fulfill all and every obligation, and again, lies and theft. In this case, an attempt to substitute and use American and German politicians.
To any retaliatory "sanctions" the reaction is the following: wide open innocent blue eyes: do we have something for sho? That is, just Ukraine has gone through a complete cycle of inadequacy: initially a very, very prosperous, developed and promising state slid into the third world cesspool due to the principle of making political decisions of the "no matter what" type.
If you look at the history of the misadventures of the Republic of Belarus, the picture is very similar: a small, not rich, isolated from the sea state is trying in its foreign and domestic policy to completely ignore the surrounding reality (and we will go to the north!). The history of relations between the Russian Federation and the Republic of Belarus is almost tracing with the Ukrainian: a very long attempt to reach the Belarusian leadership and explain the most elementary things concerning state-building and international relations.
At the same time, serious money is being invested in Belarus in parallel (as well as in Ukraine) ... Result: we ourselves with a mustache! No reforms and no integration. As a result - a complete collapse. The economy has crumbled, the population is most disloyal to the current government. Remains of resources go to keep power in power. But no one wanted to listen to any explanations for the last twenty years in Minsk. No one heard any warnings.
That is, people pointedly did not understand the hints, and in the direct text the "wild offense" mode was activated. As a result, no government and economic reforms. And today the Belarusian statehood is in the deepest crisis, there are not so many chances to get out of it. And even today, when everything flies to hell, the Belarusian state / society cannot demonstrate any small adaptation to the realities.
That is, the reforms need years and years, today it is already quite late, but no one is trying to "twitch". The calculation (quite sincerely) is done on the fact that someone (RF, EU, PRC, Arabs) will give "deneh", and the post-Soviet post-Soviet system will smoke the sky for some time.
Which is characteristic, both Belarusians and Ukrainians have been warning very long and very persistently. For a very long time and very persistently, they were pressured to push for certain rational actions. Useless. Russia's position was not just ignored. No, decisions were made, so to speak, in spite of the Kremlin and across Russia. And, the funny thing is, people in Kiev and Minsk were madly proud of this ...
Recently, Mrs. Burjanadze admitted: in the summer of 2008, Putin called in Tbilisi and warned about the consequences of a possible military conflict (there's nothing else for him to do). Did someone listen to him? And now the same people are crying: return Ossetia!
As for "nemaydana" in Armenia: the fact that Armenia largely depends on Russia was known for a very long time, then
How
Russians belong to the Maidan and their participants, it was also not a secret to anyone - neither in the 2004 year, nor in the 2014. Russians are harshly hostile to them. As a result, the whole of Armenia "sings and dances" on the street ... In Russia, this was perceived from the very beginning with a great deal of anxiety, and in the very first days a clearly negative attitude of most commentators was clearly expressed.
Whether you like it or not, this is Russia's public opinion. For the Kremlin, Pashinyan is also not a gift. It was interesting to observe this "in parallel": the growth of the "holiday" in Armenia and the "gloomy forebodings" in Russia. Well, and now burst: Mr Leontyev said
all
direct text. All that he thinks (and many more). Well, the scandal arose ...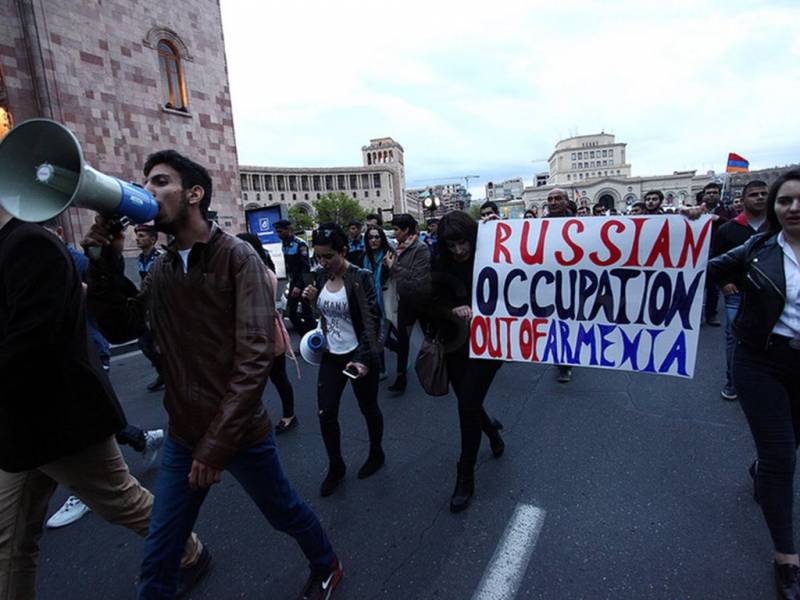 And sorry, what is wrong? What are you dissatisfied with? In many ways, our problem with relations with the "post-Soviet limitrofs" is that they do not want to hear us. They do not want to listen or hear. The starting position is simple: you owe us. And finally, Russia simply broke through: they began to speak in plain text, even at the government level. Remember the legendary Medvedev "message" to the representatives of the Republic of Belarus, dissatisfied with gas prices? Exit there! I do not like? We do not hold anyone by force! Leont'ev merely repeated this very thought and made it concrete. Do not like the union with Russia? we
do not impose
.
Why is that? And because it is enough. Approximately the same (more streamlined) said the president himself recently. We lost Ukraine and someone else there? Why did it happen? We have dissolved the Union, after which no one has the right to dictate (as after a divorce). That is, all those who are disgruntled and disagree with the Kremlin's policy are "divorce and maiden name". No one is going to chain anyone to the battery by handcuffs. Thanks to everybody, you're free.
Just for a long time, it is time to understand that Russia is not the legendary "country of good suckers with an extra hundred." Stable relationship
any
require level
reciprocity
. Attempts to "milk" and "plant" someone endlessly, as a rule, do not end well. Somehow it coincided (apparently completely by accident) that almost simultaneously with Putin's inauguration, Armenia very quickly received a new prime minister with very pro-Western views. Well, he began to appoint new security officials.
All this is just fine, but if in Ukraine the industry depended on Russia, then in Armenia, by a strange coincidence, national security depends on it. Pashinyan was elected on the square very quickly, and this is definitely a plus, only now it will take him several years to "put" himself in Moscow, Baku and Ankara. Why so long? And soon only cats will be born ...