The administrative court of the German Greifswald today has done to environmentalists what no one has allowed themselves in their attitude in Western Europe for a long time. The court of the city located in the federal state of Mecklenburg-Western Pomerania rejected the claim of the "green organizations" claiming that the Nord Stream-2 gas pipeline could cause environmental damage to the entire Baltic region.
The environmental association Nabu stated that the gas line from Russia to Germany under the Baltic Sea "may disrupt the unique ecosystem of the middle north of Europe." At the same time, Nabu demanded that the court recognize the construction of the "SP-2" as a matter of urgency - until May 15. The court decided not to force the events and voiced the decision far from the deadline announced by the Greens.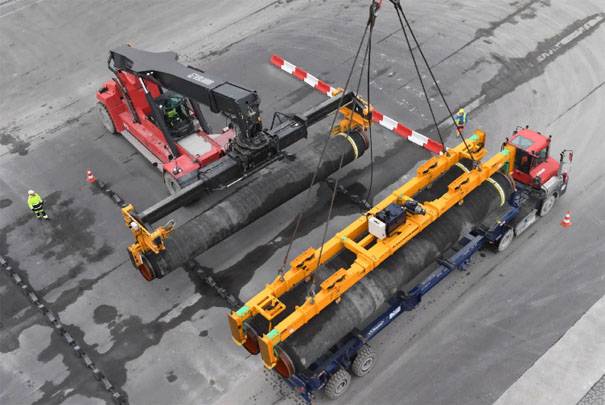 The court's decision states that the claim will not be satisfied for the reason that environmentalists have not provided the facts about how the gas pipeline threatens the ecosystem. In addition, the court asked Nabu to clarify with concrete examples what damage the Nord Stream gas pipeline already caused to the region's ecosystem. The union of environmentalists, who care about the Russian project, did not find an answer to this question. As a result, environmentalists left the courthouse with defeat, but promised "to continue the struggle."
From the statement of the court press service:
The reliability of energy supply and public importance in this case play a pivotal role.
In the meantime, experts are starting to publish experts in Ukraine as to whether SP-2 will be built or not. Most of the forecasts are in many ways reminiscent of forecasts for the Crimean Bridge, when Ukrainian "specialists" almost unanimously declared that it was "impossible to build" the bridge. However, there are sober thoughts, however, they belong mainly to foreigners working with Ukraine. Thus, the Slovak expert Karel Hirman, who is a member of the Strategic Advisory Group on Reform Support under the Government of Ukraine, said that Nord Stream 2 will eventually be built, and the main gas flows from Russia to Europe will then pass by Ukraine.
Hirman also added that no US sanctions would stop the construction of the gas pipeline.
Hirman in an interview with the Ukrainian "Apostrophe":
Remember, in the 80s, the United States tried to prevent the construction of a pipeline from the USSR to Western Europe. And the sanctions were then introduced too. So what? They did not succeed in stopping the process.