Flowers in the studio. Putin called the condition of the preservation of gas transit through Ukraine
The President of Russia during a meeting with German Chancellor Angela Merkel spoke about the condition under which Moscow will maintain gas transit through the territory of Ukraine after the construction of the Nord Stream-2 gas pipeline. The Russian president, who met Angela Merkel in Sochi with a bunch of flowers, noted that the condition for the continuation of the Ukrainian transit of Russian gas is economic feasibility for the Russian Federation and other participants in economic activity.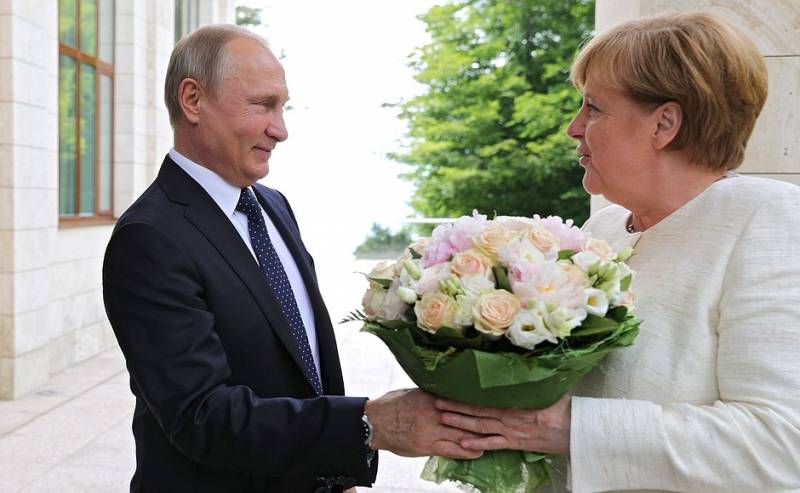 RIA News
and quotes Vladimir Putin:
I want to emphasize that deliveries will be continued if they are economically sound and expedient for participants in economic activities.
In fact, this statement by Putin means that first of all everything depends on Ukraine and its "strategic partners." If in Kiev they stop the practice of constant speculations on the acquisition of Russian gas and its transit to Europe, then the transit can be preserved. But can Ukraine alone abandon this kind of speculation?
Vladimir Putin added that for Russia the Nord Stream-2 gas pipeline is of an exclusively economic nature. And in Moscow they do not understand the statements of some foreign leaders who call "SP-2" a project of political significance.
According to Angela Merkel, Germany expects that after the implementation of the Nord Stream-2 project, the transit of Russian gas through Ukraine will still be saved. The German chancellor added that for Germany "this is of strategic importance." At the same time, Merkel noted that she spoke and continues to advocate a dialogue with Russia, which "did not stop on the part of Germany even in the most difficult times."
Merkel:
In the most difficult times I have always advocated that, for example, the Russia-NATO Council should continue its work, and on the part of the EU, contacts should be maintained and maintained. Only on the basis of dialogue can one develop a balanced position on any questions of interest. And the issue of energy is no exception.
website of the President of the Russian Federation