Western "partners" were surprised to find out for themselves that the Crimean (Kerch) bridge was "really open", "really exists" and "really went cars and buses" along it. This "discovery" is evidenced by the reaction of a number of Western politicians who had previously scooped information from the media, such as Ukrainian, with statements that "Russia will never build a bridge."
It is surprising, for example, the reaction of the Ministry of Foreign Affairs of Canada in the person of its head Christie Freeland. She (reaction) is published on the official website of the Ministry:
The bridge that links Russia to the illegally annexed Crimea is a violation of the sovereignty and territorial integrity of Ukraine by the Russian Federation.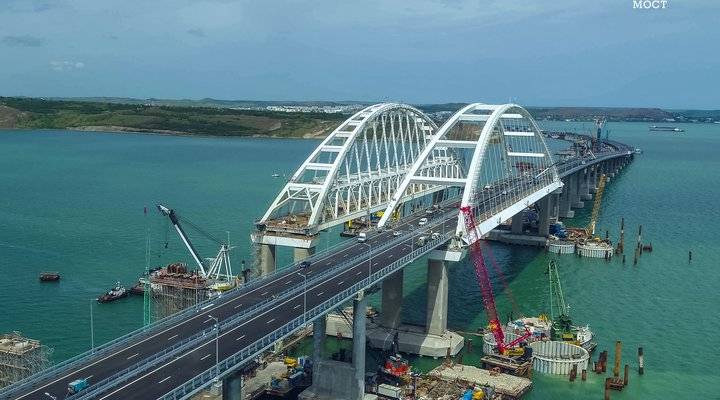 Perhaps this is the first time in
stories
of humanity, when it is announced that the bridge "can be broken" by anyone's territorial integrity, given the fact that the bridge connects parts of one state.
Christia Freeland:
The bridge becomes a solid basis for Russia's illegal possession of the peninsula and its violent rejection from the rest of Ukraine.
After this statement, I would like to send Ms. Freeland a parcel with a map of the former Yugoslavia and photographs of the participation of Canadian soldiers in the bombing of the Balkans. Or bombing - less aggression compared with the construction of the bridge? ..
Meanwhile, in Ukraine, they protested a number of French deputies at the opening of the bridge over the Kerch Strait. The French Foreign Ministry responded to this by saying that it was a personal initiative of each of the deputies, which "remains to be regretted". Next postscript:
France condemns the construction by Russia of the Crimean Bridge, since it denies Ukraine's full access to the use of its internationally recognized territorial waters.
Recall that on the eve of the American newspaper Washington Examiner published an article openly calling for Kiev to begin bombing the bridge to the Crimea.
Partners...