The Russian Uranus complexes have broken off a step from their main competitors and are capable of changing the balance of power in future armed conflicts, according to The National Interest columnist Eugene Chow.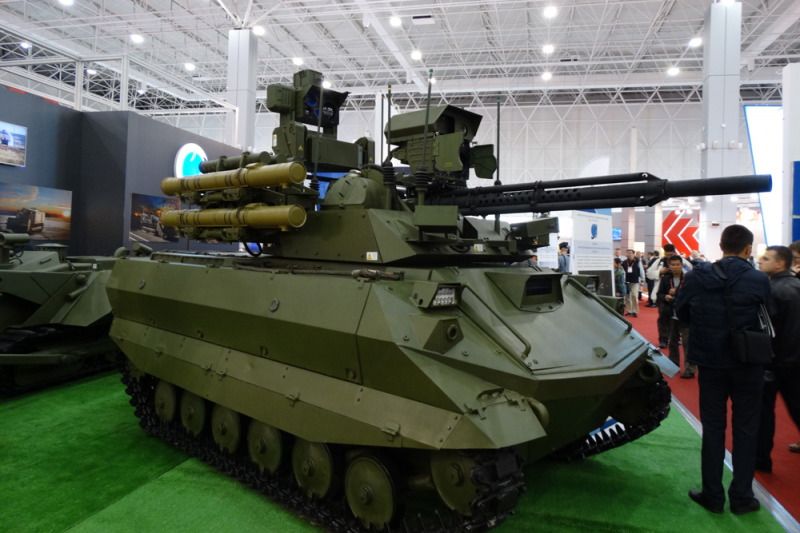 The author notes that Russian unmanned
Tanks
already tested in battle.
"Earlier, the Russian Defense Ministry stated that the Uran-6 and Uran-9 complexes had proven themselves in Syria. In particular, Uranus-6 took part in the demining of Palmyra, which made it possible to save hundreds of civilian lives. The department didn't tell about the tests of Uranus-9, which has powerful weapons, but they, like other modern Russian weapons in Syria, most likely also were successfully tested, "the article cites
RIA News
.
Tank robots are also being developed in the United States and China, but there, unlike in Russia, they are still being evaluated for their use. Specialists are working to eliminate the shortcomings of their projects.
As Uranus-9 has shown, the era of unmanned tanks has already arrived in technology, the only question is how the armies of the world will manage them. Russia tested them before anyone else, and its next steps could have serious consequences for other countries,
concludes Eugene Chow.
Recall, the Uran-6 robotic complex is intended for demining the terrain, and Uran-9 for the reconnaissance and fire support of units on the battlefield. It is equipped with "Attack" anti-tank guided missiles, 30-mm 2-72 automatic cannon and 7,62-mm machine gun. The machine is also built into the tactical level control system and is protected against unauthorized access and EW facilities.