Rosselkhoznadzor announced that it is preparing to introduce temporary restrictive measures to import vegetables into Russia from the Republic of Armenia. The statement of the ministry says that the restrictions may affect Armenian tomatoes and cucumbers.
RSHN notes that over the past few days 7 cases of importing vegetables from Armenia that do not meet the phytosanitary standards of the Russian Federation have been identified. In particular, a pest such as a tomato moth was discovered on tomatoes, and Californian flower thrips was found on cucumbers.
The Armenian State Food Safety Service reports that it is ready to clarify the situation together with Russian colleagues and introduce additional phytosanitary control for agricultural products exported to the Russian Federation.
RIA News
cites the statement of the Armenian department:
The State Food Safety Service of Armenia clarifies all the circumstances with the Rosselkhoznadzor. At the same time, the service has already taken the necessary measures to tighten control over fruit and vegetable products.
It was noted that violations in one of the consignments, en route to Russia.
Recall that in Armenia, on May 8, a new chairman of the government was elected by voting in parliament. They became opposition figure Nikol Pashinyan, who previously spoke in favor of Armenia's withdrawal from the EEU and the CSTO.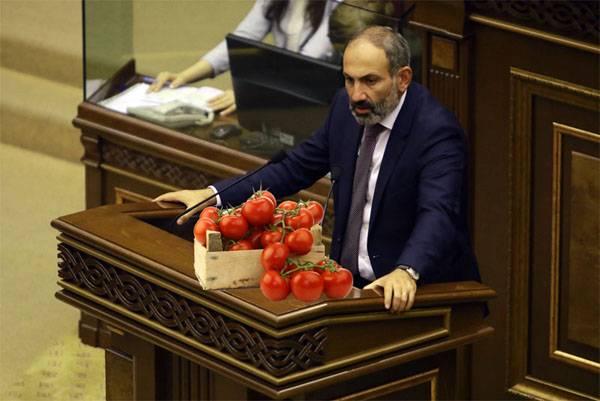 Collage "Pashinyan and tomatoes"
After the election, Pashinyan stated that Armenia in these international organizations will remain and "study the effectiveness of the interaction." Rosselkhoznadzor helps Pashinyan to study the effectiveness of interaction with specific examples of trade and economic relations?