Russian-made Su-35 is the most efficient aircraft in service with the Chinese Air Force and is a serious danger to the US military, leads
Lenta.ru report
opinion of the American analyst.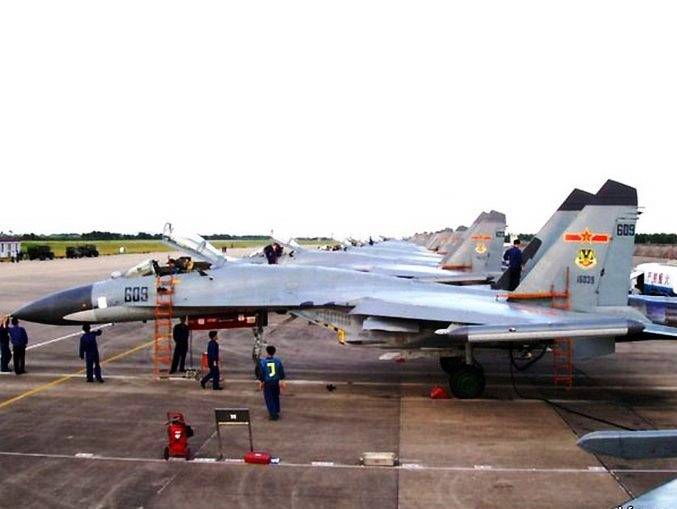 Flanker-E (the name of the Su-35 according to NATO classification) is probably the most combat-capable fighter of the PRC Air Force, besides the stealth fighter Chengdu J-20 (fifth generation Chinese fighter), which is unlikely to be fully operational, even if it reaches some level of operational capabilities
- It is said in an article published in The National Interest.
According to the author, the Chinese "Su-35 in 2018 year will receive new long-range air-to-air missiles PL-15, which can be used, in particular, to attack American tanker aircraft and Boeing E-3 long-range radar aircraft Sentry critical to air operations over the Pacific. "
The magazine reminds that China created its own fighter Shenyang J-16, which, although it had to surpass the Su-35, is in reality still inferior to the Russian aircraft.
Thus, the commissioning of the Su-35 significantly increases the capabilities of China and increases the headaches of the American military in the event of war.
- the analyst concludes.
Publication reference: "Su-35С is a multi-functional fighter of the 4 ++ generation, the last combat aircraft built on the basis of the T-10С platform, which became the basis for fighters of the Su-27 / Su-30 family and their modifications. The aircraft is purchased by the Russian Aerospace Forces, these fighters in the Su-35SK version were sold to China (the 24 aircraft, to date, the 14 aircraft have been transferred, the rest of the supplies are planned for the 2018 year). "