The international community should pay tribute to the fact that the Soviet Union undertook the greatest military efforts against Nazism, reports
RIA News
statement by UN Secretary General António Guterres during the exhibition timed to coincide with the 73 anniversary of the victory in the Great Patriotic War.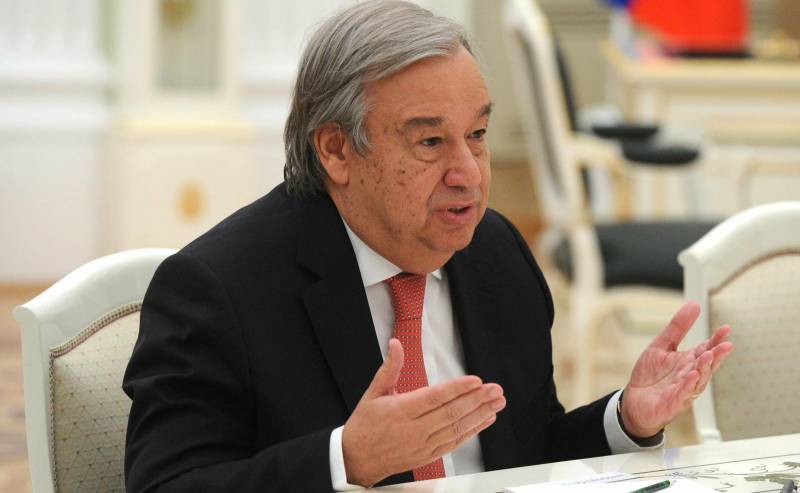 In the lobby of the General Assembly building, stands of nine CIS member states were presented, telling about the contribution of each country to the struggle against Nazism in the 1941-1945 years. The exhibitors were Russia, Belarus, Azerbaijan, Armenia, Kazakhstan, Kyrgyzstan, Tajikistan, Turkmenistan and Uzbekistan.
According to Guterres, the organization of such a joint exhibition "has more significance than in previous years."
I believe that it is extremely necessary for all of us to remind ourselves about the lessons of the Second World War, the Great Patriotic War - for the Soviet Union. It was absolutely unimaginable, devastating destruction in the world. I think we need to pay tribute to the fact that the Soviet Union made the greatest military efforts against Nazism, as well as the fact that the Soviet Union suffered the greatest casualties - human and others, to defeat Nazism,
said the secretary general.
At the same time, he called the "worst crime of Nazism" the Holocaust. Today, he said, "anti-Semitism, hatred of Islam and other forms of hatred are spreading around the world."
Recently, we see that the neo-Nazi message is rising again. We see political movements that either recognize their neo-Nazi connection, or use symbols, images, words, for example, "blood and soil", we hear them being repeated at demonstrations in different parts of the world. This is a cancer that is starting to spread again, and I think it is our duty to do everything possible to cure this terrible disease. The memory of those who defeated Nazism in 1945, this memory will help us to defeat any manifestation of neo-Nazism in our time,
said Guterres.
The permanent representative of the Russian Federation to the UN, Vasily Nebenzya, speaking at the opening, recalled that "according to some estimates, 28 millions of Soviet people sacrificed their lives in this terrible war to defeat Nazism, and in Europe estimates reach 50 million dead."
I personally remember three of my uncles, who died during World War II, and my father, who did not die, as you can now see. My father went to war when he was 17 years old, adding a year to his age, with which he lived until the end of his life. He graduated in Berlin when he was 21 year. Now it's hard to imagine
told the post representative.
He thanked those who came to the exhibition to "celebrate with us the day of this great Victory for all mankind".
Today we live in a difficult time, but we have a special responsibility - to do everything in our power to prevent a repetition of this,
stressed nebenzya.