Mattis: Finns and Swedes, do not forget that Russia fought against you
On the official website of the Pentagon published a joint statement by the Ministers of Defense of the United States, Sweden and Finland. The very visit by the Swedish and Finnish Pentagon ministers suggests that Washington continues to carry out attempts to drag these countries into the North Atlantic military bloc. And so far no serious arguments can be offered for this, each time using the same rhetoric - "about the threat from Russia".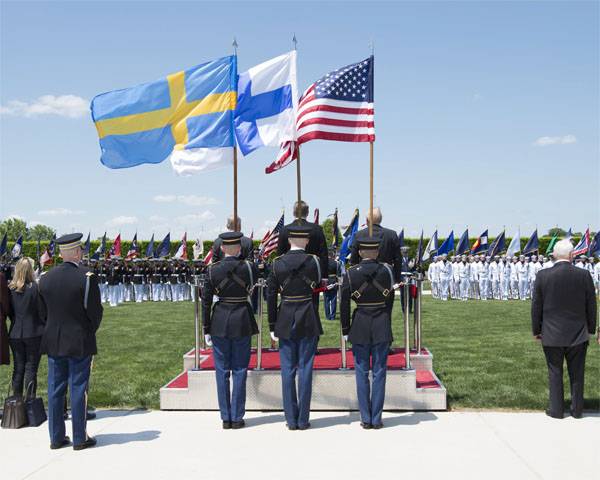 The head of the Pentagon, James Mattis, during his negotiations with colleagues from northern Europe, once again declared that Russia was "threatening" their countries. To make the argument more convincing, Mattis decided to plunge into
history
, stating that "the conclusions suggest themselves on the basis of such historical facts as the Soviet-Finnish war."
Of
release
statements by the us minister:
Both Finland and Sweden know firsthand that the threat of ignoring international law can threaten regional security and stability. This neglect took various forms, including the Russian invasion of Finland during the winter war that took place almost 80 years ago. These are the cases of Georgia and Ukraine, which are now too well aware of current events. In addition, the Soviet invasions of the territorial waters of Sweden at the end of the Cold War are another example, a reminder of the threats that we once hoped were in the past.
It is surprising that Mattis did not even remember the Russian-Swedish (Northern) war, when "the Russians treacherously lured the Swedes under Poltava" ...
Mattis:
The destabilizing behavior of Russia today reminds us that our common respect for the rule of law and territorial integrity must be protected. I would like to express our respect for Finland's and Sweden's firm commitment to global security.
Did this "respect for territorial integrity" also spread to Yugoslavia in the 90s?
And what can you do for the sake of drawing the Finns and Swedes into NATO ...
http://www.globallookpress.com