The chief engineer of the Chinese commercial aviation corporation COMAC told the press about when the world would see the CR929-600 wide-body airliner CR2025-XNUMX implemented in cooperation with Russia. If you believe the reports of representatives of COMAC, the work on the Russian-Chinese aircraft is not out of date. His first flight is scheduled for XNUMX year.
TASS
cites the statement of the chief engineer of the Chinese aviation corporation:
At present, the parties are at the initial stage of development and design of an airliner. Thanks to a selected team of highly qualified specialists, the aircraft will meet all the necessary technical requirements of the market. The most advanced composite materials and high-tech solutions will be used in its creation. It is assumed that by the year 2025 will take place the first flight of the aircraft.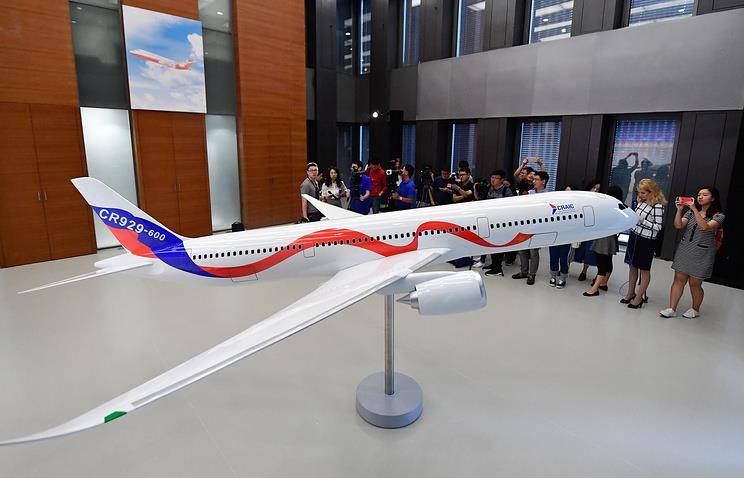 It is known that CR929 should receive more than 50 percent of parts made from composite materials such as reinforced polymer carbon fiber. This will reduce the weight of the airframe and reduce the cost of aircraft maintenance.
The CR929 aircraft is at the design stage with the choice of suppliers for ordering airline members. This phase should be completed in the 2019 year. Design is conducted in Russia. Collecting airliners is supposed to be in Chinese Shanghai.
The wide-body airliner is being created in the format of Russian-Chinese commercial cooperation. For this, a joint company CRAIC (China-Russia Commercial Aircraft International Corporation) was established. The cost of the project 13 billion dollars.
The design takes into account the following characteristics: 280 seats. Flight range - 12 thousand. Km.