Second six years. Vladimir Putin took office as president of Russia
Vladimir Putin became the president of Russia for the fourth time, his official inauguration ceremony was held in the Grand Kremlin Palace (BKD), in the halls of which 3,5 thousand people gathered - members of the government, members of the State Duma and members of the Federation Council, judges of the Constitutional Court, officials public figures, clergy, and so on. Another 1,5 thousand people invited to the ceremony, were on the Cathedral Square.
President-elect Vladimir Putin took the oath at the inauguration ceremony at the Grand Kremlin Palace and took the office of head of state for a new six-year term.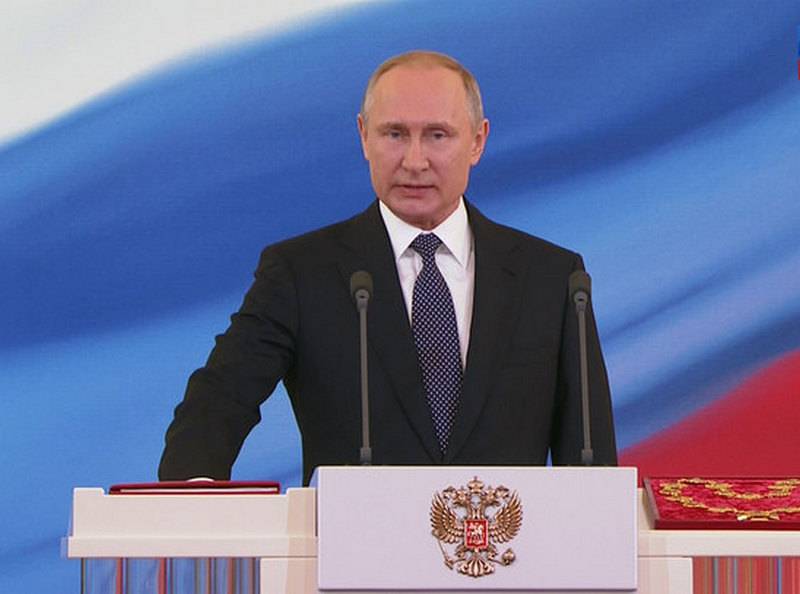 Thirty-three words of the presidential oath, as well as the status of the head of state, are defined by the fourth chapter of the Constitution. Putting the right hand on the Russian Constitution, Putin recited the text of the oath:
I swear in the exercise of the powers of the President of the Russian Federation to respect and protect the rights and freedoms of a person and citizen, to observe and protect the Constitution of the Russian Federation, to protect the sovereignty and independence, security and integrity of the state, to faithfully serve the people
A copy of the Constitution, at which Putin took the oath, was specially made for the inauguration ceremony of the Russian president in 1996 and has been used in all the inaugurations of the head of state since then.
After that, the chairman of the Constitutional Court announced that the president assumed the office and handed him symbols of power. A Russian anthem sounded in the hall, and a duplicate of the President's Standard was raised above the residence.