American magazine The National Interest is a new article about Russian weapons. A new article was devoted to the aircraft still of the Soviet "origin" - Su-27. Probably, the material was inspired by the author's statements by the Pentagon's representatives that the Su-27 pilot made an "unprofessional" interception of the American P-8 "Poseidon" over the Baltic Sea. Recall that in the US military on the eve of the spread message about the approach of the Russian fighter to the US plane on 6 m.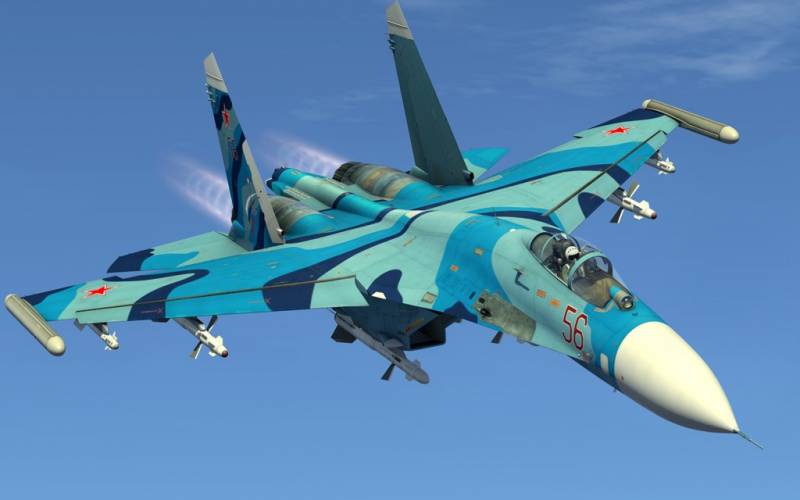 The author of the material (Robert Fairlie) states that the Su-27 aircraft "terrify the NATO countries." According to the author of the material, these fighters are "frightening". At the same time, there is a list of conflicts in which these aircraft were used at different times: "Russia with Ukraine", Ethiopia with Eritrea, Vietnam with China.
As the author of the material in
NI
characterizes Su-27? From the article:
In the West, accustomed to the fact that most of the legendary Soviet aircraft of the Cold War came from the design offices of Mikoyan and Gurevich, which resulted in the production of such aircraft as the MiG-15 "Fagot", MiG-21 "Fishbed", "MiG-25" Foxbat "And MiG-29" Fulcrum ". The only best Soviet fighter of the Cold War, however, was the Su-27 Sukhoi Flanker. Designed both to defeat American fighters in Central Europe in the conflict of NATO and the Warsaw Pact, and to patrol the airspace of the Soviet Union against the invasions of American bombers, Su-27 survived the end of the Cold War to become one of the world's leading export fighters.