Angela Merkel during a joint press conference with Donald Trump said that the time of the "post-war order" had passed. According to the German Chancellor, for more than 70 years, European countries, including Germany, "relied on the all-powerful partner represented by the United States." Merkel said that now European countries need to take more responsibility, including responsibility for their own security.
Angela Merkel:
We must make our own, greater contribution. It should grow from year to year. We should not rely on someone who comes and will save us if conflicts occur at our doors. Germany must learn to play its own role. We are a big and powerful country, but we just have to learn how to do it.
When Merkel spoke about relations with NATO, everything fell into place. Merkel's statements were mainly made in response to Trump's claims that Berlin was not sufficiently financing NATO programs. Recall that according to the NATO charter, states must contribute to the consolidated budget of the military bloc on 2% of GDP. Germany recently decided to increase spending - up to 1,3% of GDP. In the US, they believe that this is not enough, but they note that they approve the first step.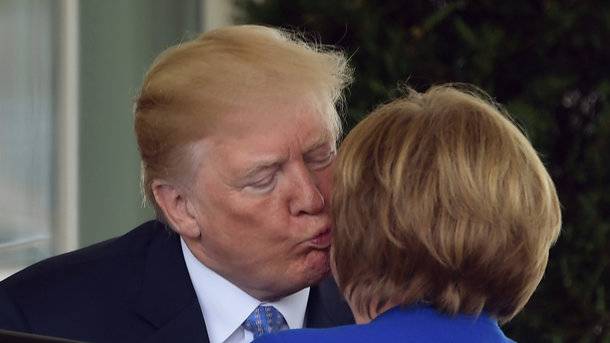 Recall also that Germany refused to participate in the operation to attack Syria. In this regard, Merkel clearly received a kind of scolding from an American partner, who demanded that she take more responsibility, including finance.
Trump gives European "friends" to understand that they themselves have to pay for their safety if they don't want the "unpleasant consequences" of their harshness.
Against this background, it became known that Trump did not succeed in convincing Merkel that it was necessary to terminate the nuclear agreement with Iran. In Berlin, they believe that such a move could lead to dire consequences for at least the Middle East.