DPRK leader Kim Jong-un and President of the Republic of Korea Moon Jae Ying began the very meeting that was announced in recent weeks. The inter-Korean summit of this level is taking place for the first time in 10 years and is the first for both leaders. One of the main issues is the issue of security on the Korean Peninsula. Only about 4 months ago, the situation was such that many people in the world talked about the impending threat of World War III because of the events surrounding the DPRK nuclear missile program and the statements that President Trump was making himself to do. Two US AUG "circled" off the coast of the Korean Peninsula, there was an evacuation from the American colonial territory - the island of Guam.
The talks between the heads of the two Korean states began in the demilitarized zone at the 38th parallel. News agencies around the world publish
historical
pictures showing the handshakes of Kim Jong Un and Moon Jae In.
The leaders proceeded to the so-called "House of Peace", and Kim Jong-un crossed the line, being formally on the South Korean territory. This step made the current head of North Korea the first leader of this state, who found themselves in South Korea.
Crossing the border in the form of a concrete border was accompanied by jokes from both leaders, as the Korean media report.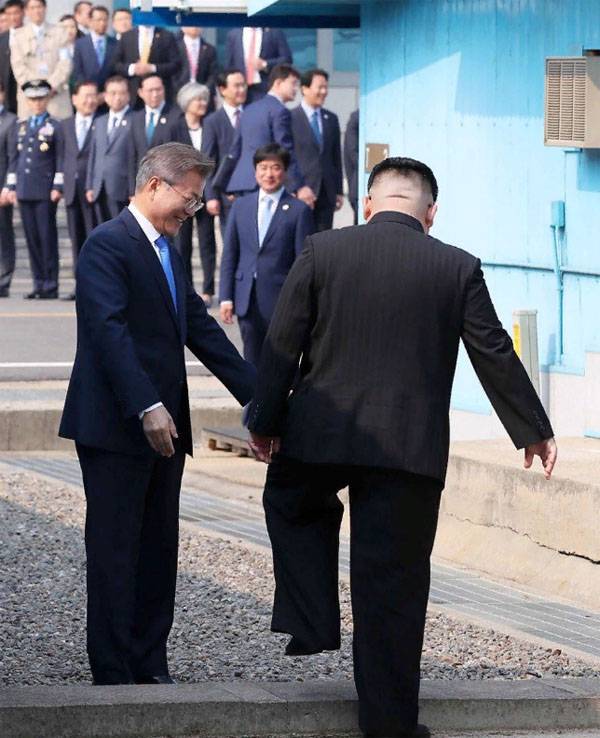 According to Kim Jong-un, this summit should be the starting point in relations between the two states. Moon Zhe Ying, in turn, noted that the summit can and should bring a long-awaited peace to the Korean land. At the same time, he called for the line dividing the Korean Peninsula to be turned into a "unification line".