It became known that Russian diplomats had met with the leaders of the protests in Armenia. Recall that on the eve of the protest again took to the streets of Yerevan at the call of opposition leader Nikol Pashinyan, who, as it turned out, Serzh Sargsyan's resignation from the post of prime minister seemed not enough. Now Pashinyan, in fact, openly declares that the protests will stop only after he finds himself in the premiership.
Apparently, Russian diplomats decided to "clarify" the position of the leaders of the protest regarding the attitude of those towards the Armenian-Russian alliance.
The official release says that Russia has called on the Armenian opposition to engage in constructive dialogue with the current government. According to the representatives of the Russian embassy in Yerevan, they expressed the hope that the process would not go beyond the framework of the Armenian constitution.
Earlier, Pashinyan himself announced a meeting with representatives of Russia, saying that they "promised not to interfere in the internal affairs of Armenia."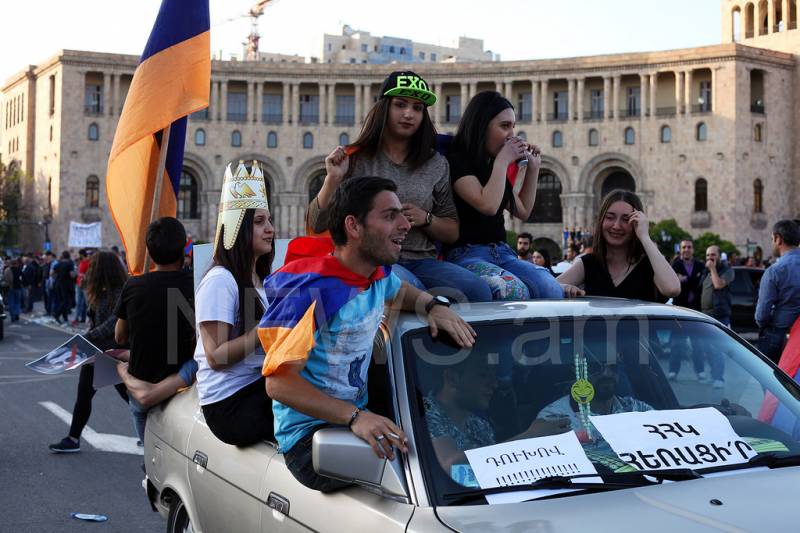 Today, Pashinyan, who gave the protest movement the name "My step", announced that 80 trucks had accumulated on the Yerevan-Sevan highway, which, with 12: 00, would begin to block the main roads and bridges of the republic in local time. The next rally is scheduled for 19: 00 in Yerevan, at which it will demand the appointment of a "people's candidate" to the premiership, by which Pashinyan, by all appearances, understands himself.