The NTV channel in the program "New Russian Sensations" issued a report that aroused conflicting emotions among the audience and raised the degree of discussion
historical
Topics. NTV reporters spotted a man who seriously claims that "his father said that he was the grandson of Adolf Hitler."
The story with Hitler's "secret children" stretches almost as long as the story with allegations that he allegedly remained alive in 1945 and moved to permanent residence in Latin America.
One of these stories, which is officially considered to be fake, comes from France, where, allegedly, Hitler Jr. lived under the name Jean Lore until 1985. And this Jean Lore allegedly had a son Philip.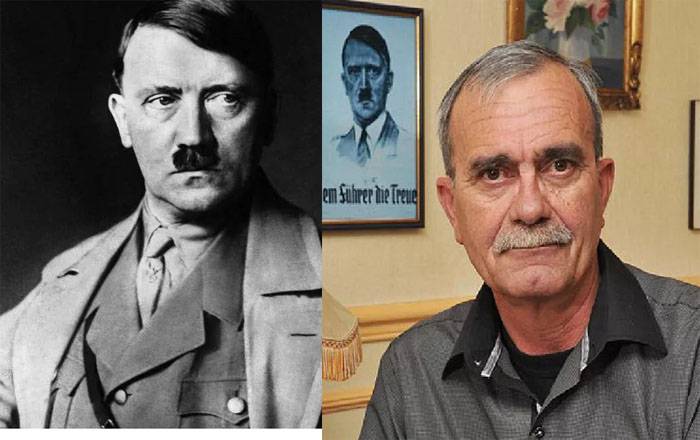 With this man, I want to believe - to expose the fake, and the journalists of the NTV channel contacted. According to Mr. Laura, he lives in France "in fear of his life." At the same time, he nevertheless agreed to a conversation with Russian reporters. According to Laura, his father told him that he himself was "Hitler's" illegitimate son "from the Frenchwoman Charlotte Lobjuja from a town near Lille. At the same time, the "grandson," as he declares himself, "hardly" believes in all this.
To obtain the necessary data on the "relationship" with Adolf Hitler, a sample of saliva was taken from F. Lore. It is reported that genetic examination can be carried out on the basis of DNA data on a sample of a fragment of the skull and lower jaw of Hitler, stored in the museum of the FSB.