The ongoing military operation in Syria demonstrates that government forces are still in dire need of a fire support vehicle. Now for these purposes self-propelled installations "Shilka" are used, however their protection remains insufficient and needs strengthening, writes
Messenger of Mordovia
.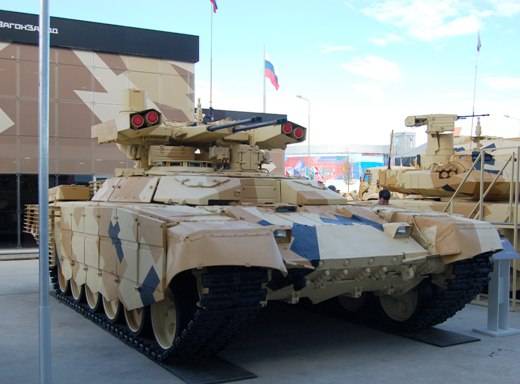 It would be optimal to create such a technique based on
tanks
, and Syrian craftsmen made several attempts to do this, but their options can not be compared with the BMPT-72 Terminator-2 existing in Russia.
"For the Syrian conditions, it was possible to create a somewhat simplified version of this powerful combat vehicle. The main thing is that the combat module with two automatic small-caliber 2А42 guns with ammunition in 850 shells remains unchanged. And also a PKTM machine gun paired with guns, equipped with an automatic reloading device. Its ammunition compares 2100 cartridges, "reads the publication by Dmitry Lemeshko.
It was previously reported that this module can be installed on the T-72, T-62 and T-55 chassis. But it is necessary that the upgraded car received modern dynamic protection.
According to the author, the use of such technology in Syria "will surely attract new buyers to it, who will want for relatively small money to get at their disposal unique machines with outstanding performance."