Patriarch of Constantinople Bartholomew responded to the requests of Petro Poroshenko to create a single autocephalous church in Ukraine, that is, to actually recognize the UOC of the Kiev Patriarchate, which is currently considered divisive. From the statement of Bartholomew (quoted by
UNIAN
):
According to the Divine and Holy Canons, as well as the age-old church order and the Holy Tradition, the Ecumenical Patriarchate is interested in preserving the general Orthodox unity and care for the Orthodox Churches throughout the world, especially the Ukrainian Orthodox Church, which received Christianity from the Constantinople and saving baptism. Thus, as a true mother church, the Ecumenical Patriarchate considered issues relating to the church situation in Ukraine.
According to the Patriarch of Constantinople, he intends to start discussing this issue with the "sister churches."
Recall that in Ukraine there are two Ukrainian Orthodox churches. One of them - the UOC of the Moscow Patriarchate - recognized in the world, the other - the UOC of the Kyiv Patriarchate (not officially recognized in the world).
Recently, the President of Ukraine, speaking in the Rada, said that Ukraine is close to receiving its autocephalous church. He also met with the head of the UOC-MP, Metropolitan Onufri of Kiev. From the message
press service
UOC MP:
The President informed His Beatitude about his visit to Istanbul, where he met with the Ecumenical Patriarch Bartholomew and members of the Synod of the Ecumenical Patriarchate. The President of Ukraine and the Primate of the Ukrainian Orthodox Church exchanged views on the intensification of interfaith dialogue in Ukraine.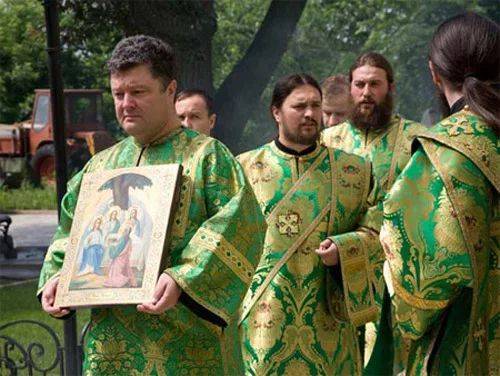 Details of the reaction of Onufriy Poroshenko's initiative is not given. Recall that under the constitution Ukraine is a secular state, and the president, by definition, cannot interfere in church affairs. But who in Ukraine ever paid attention to the constitution? ..