Your attention is provided with a list of US senators who personify not only the triumph of US democracy, but also the turnover of power. We are talking about senators, whose age is deeply retirement, but this does not prevent some of them from remaining in the senatorial seat for 20-40 (!) Years. The 25 members of the US Senate are aged 70 years old, of which seven are older than 80 years.
Jeff Sessions (from Alabama) - 71 year, Jim Rish (from Idaho) - 74 year, Richard Shelby (from Alabama) - 83 year, John McCain (from Arizona) - 82 year (in the senator's chair - 31 year), Mike Enzi (from Wyoming) - 73 of the year, Bernie Sanders (from Vermont) - 76 years, Patrick Leahy (from Vermont) - 77 years, Maisie Hirono (from the state of Hawaii) - 70 years, Tom Carper (from Delaware) - 71 year, David Purdue (from Georgia) - 69 years (he is the cousin of the former governor of Georgia), John Isaacson (from Georgia) - 73, John Manchin (from West Virginia) - 70 years, Dick Durbin (from Illinois) - 73 year, Dianne Feinstein (from California) - 84 of the year (in senators - 26 years), Pat Roberts (from Kansas) - 81 year (in senators 21 year), Mitch McConnel (from Kentucky) - 76 years (in senators - 33 year ), Rich Blumenthal (from Connecticut) - 72 of the year, Elizabeth Warren (from Massachusetts) - 69 years, Ted Cochrane (from Mississippi) - 80 years (in senators - 39 (!) Years), Angus King (from Man) - XNUM , Ben Cardin (from Maryland) - 74, Jim Inhof (from Oklahoma) - 74, Jean Shahin (from New Hampshire) - 83, Ron Wyden (from Oregon) - 71 years (in senators - 70) Jack Reed (from Rhode I Lenda) - 22 years (senators - 69 year), Lamar Alexander (from Tennessee) - 21 years, Bill Nelson (from Florida) - 77 years, Orrin Hatch (from Utah) - 75 year.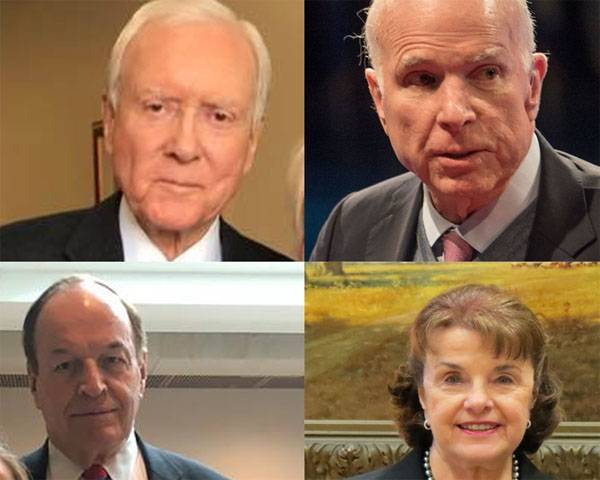 A number of US senators are hereditary politicians. For example, talking about Senator Kennedy and Merkauski. Some senators, including Michael Lee from Utah, moved from the American religious organizations to the current seat. That same Lee was a Mormon missionary in Texas for several years. This means that the church in the USA is certainly separated from the state ...
And why we, in Russia, are surprised that the US Senate is so hostile towards the Russian Federation. In fact, the answer is obvious. In the US Senate, politicians who drank champagne or whiskey for the collapse of the USSR "entrenched themselves". And then suddenly Russia, which was "buried" in 90, under Yeltsin's dances, began not only to give a voice, but to interfere with the United States, which considers itself to be winners, in carrying out their geopolitical intrigues. The "winners" were furious. Even if many hearts play tricks on them, they clearly do not want to leave the "throne", having lost the won "victory" over the geopolitical adversary from their hands.