The Russian Federation has officially commented on the show, which is arranged in Ukraine in relation to Nadezhda Savchenko. It is noteworthy that the position of Russia was voiced at a meeting of the OSCE Council, where a huge banner "Freedom to Nadya!" Hung in its time. Now, as you know, Savchenko is accused of preparing for a terrorist act and is in jail in Ukraine itself.
Permanent Representative of the Russian Federation to the OSCE, Alexander Lukashevich, expressed bewilderment about the fact that the same country, the same power, first knocks on the doors of international organizations to pardon Savchenko in Russia, but after pardon she throws the same into prison. Also, according to the Russian diplomat, he is surprised by the double standards of the West regarding the current situation.
RIA News
quotes Alexander Lukashevich:
Surprising hypocrisy and double standards of Western countries in relation to the Ukrainian crisis. There were reports that the hero of Ukraine Nadezhda Savchenko went over to the harsh form of a hunger strike in Ukrainian custody. This is, of course, an internal affair of Ukraine, but it is interesting for us to continue to follow the fate of a person with regard to whom in this hall a special paragraph has been stated so many times in the "current issues" section. Now - silence.
Lukashevich wonders what has changed in the OSCE, which Savchenko was a member of the Ukrainian delegation, if now in this organization they prefer to keep quiet about her fate.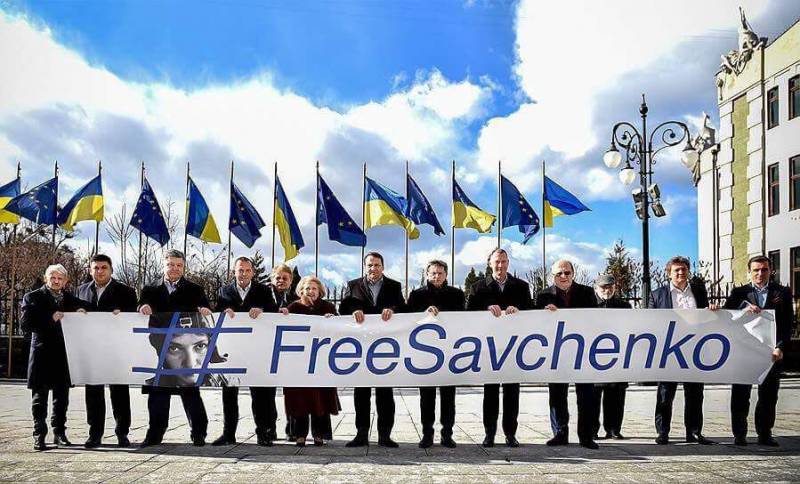 In fact, OSCE double standards are far from
news
. Take at least the OSCE SMM, which stubbornly did not notice the Ukrainian
Tanks
who shot at the DNI from the city blocks of Avdeevka.
I wonder if Poroshenko remembers that if politicians in Ukraine go to prison, then do they leave either the prime ministers or the prosecutors general? .. Savchenko has a whole political career in Ukraine yet to come? - unless, of course, she is satisfied with a full-fledged dry hunger strike in the SIZO.