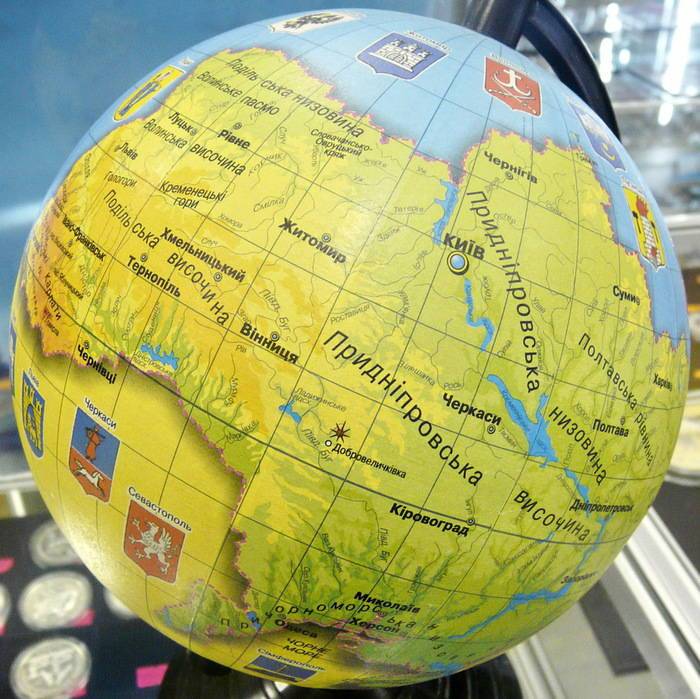 And again
news
on TV. And again, the second plot of Ukraine. Parliament passed a law on "reintegration", such cases.
These are the things here. Why, strictly speaking, the TV loses (and will lose) the Internet? It's not just about technology, it's about psychology. On the Internet, a person forms an information menu to himself, it is very difficult to impose something on him. But with the TV the situation is different. Apparently, to this day someone "very smart" is trying to use TV channels for "forming public opinion", making it in the most clumsy way.
To be honest, I'm not interested in "news" from Ukraine. Totally. And not because I am "tired", the matter is completely different. Any normal person wants to watch what he is interested in, and in the same natural way not to watch what he is not very interested in.
If a person is not interested in politics, and there are more than half of the population, then he already has news from Ukraine where he is! Zadolbali. Another word is difficult to pick up. They got these Ukrainians with their "peremogs" worse than bitter radish. And why does he need all this? He does not need Ukraine (a synonym for hemorrhoids) neither in the first plot, nor in the second. Steamed up because. Are you smart in the Kremlin? So you decide.
If a person is interested in politics (and there are about twenty percent of them at most), then any Ukrainian plot is not very informative for him. The policy in Ukraine is over, a frank mess and a wild field began. What can be interesting here is very difficult to say. Does not cling. Do you still think that there are fascists and scumbags? Bomb. You can not? Well, then why all these "TV reports"?
Maybe enough already talk about how bad the junta? Do not you think that the topic is slightly faded? In general, there are a lot of countries on the globe (more than two hundred). And even not far from Russia there are many significant and very significant ones. But this
not
Ukraine.
The significance of this state was maximum for the Russian Federation in the year that way 1991-m, and then gradually decreased (only decreased!). Today, Ukraine is a solid problem. And what could be interesting? Suppose a homeless and thieving neighbor lives in the yard of your house. Should I give it all your time and all your attention?
What about significant countries and the overall picture. Behind the Black Sea there is a beautiful country of Turkey, with which we are also very closely connected historically. There are quite vigorous political processes today. And yes, the Turkish economy is no Ukrainian match! They actually produce, for example, industrial equipment for Europe and even for Russia. The population is on the order of 80 millions.
And what do we know about Turkey compared to Ukraine? I'm not talking about tourist attractions, I'm talking about Turkish politics (external and internal). In fact, we know (from the TV!) Very, very little. Yes, almost nothing. And yet, in terms of significance on the world stage, this country is once more in 5 than "the country of 404", but you will not wait for serious, informative reports from there (about modern Turkish politics). Or they are, but they are vanishingly small.
And then you can be surprised for a long time and do not understand much. When events start to happen.
Important neighbor for us - Turkey? Significant! Are interesting events happening there? So, sir, may God have mercy, every month, read, happen!
Well, what do we know about them (in mass)? Virtually nothing ... Russian journalism - she is so ... Russian! But the news from Kiev ... you will hear and watch. This is despite the fact that the Ukrainians did not have their Erdogan, and never will be! So what is there to watch? Clash of Natsik gang with Avakov's gang? Are you sorry, is this interesting?
Damn it, such a close and well-traveled by millions of "tourist tourist" Turretchina ... but the political situation in Ankara for Russians is a secret sealed (as it turned out at the time of the failed coup). No, it is clear that a German or, God forbid, an American, it is not interesting in principle. But we live in Russia. And I would like to grind the bones of the Turkish comrades. But somehow with the actual material trouble. Is it really so difficult and very heavy?
Speaking about Turkey, it is impossible not to say about the country located to the east, namely about Iran. For anyone who is interested in politics, it is absolutely clear that this country is at least an order of magnitude larger than the country of Ukraine in the political arena ... We don't have much to do with Iran, therefore we know even less about Iran than about Turkey about which we also practically know nothing.
The Iranian nuclear program has been the mainstream of international politics for many years. But if for the USA Iran is on the other side of the ball, and for Europe is very far away, then for us Iran is actually a close neighbor. Moreover, Russia is building a nuclear power plant in Bushehr. Interesting? Interesting! Significantly? Significantly!
So what are we talking about all this? Yes, it is practically better to watch CNN ... Somehow more informative. Our journalism (since Soviet times!) Is focused more on Europe and the United States. In principle, even before Ulyanov-Lenin, Russian travelers actively traveled to Italy, France, and Germany. In London, a lot of people gathered. Emigration from Russia also went mainly to the West ...
And we somehow formed the opinion that the "right" abroad is Europe and the USA. The rest is rather exotic. Once it was so, but not today. Today, Iran is a country more significant on the world stage than, for example, Spain, Italy or Sweden. So what do we know about her? About her and about the "Ayatollah mode"? Do we even have international journalism? Or, again, need to read / watch analytical reviews of the Western press? Does Russia have its own point of view? And if so, why is it not visible in the news?
Why do we know much less about the Iranian missile program than about Oleg Lyashko's sexual preferences? No, seriously, whom we see on TV more often: Lyashko or the head of Iran? By the way, what is his name and what is his official position? Iran is a powerful, large, significant state in the very center of world politics, but the Russian TV viewer knows almost nothing about it. Nothing at all. And we still laugh at stupid Americans who believe in bears on the streets of Russian cities.
No, Moldova and Dodon are just wonderful, like Grybauskaite. But today, in the triangle Teheran - Ankara - Riyadh, truly great things are happening ... And all our television reporters in the Rada demonstrate to us all. The war in Syria revealed the complete and absolute absence in Russia of competent experts on the Middle East. At first, even the general picture of what was happening was incomprehensible to us: someone was cutting someone. And that's all. Those. Russia is directly affected by the situation in the Middle East, but it's extremely difficult to understand from news stories on television.
Almost no information and no good analytics at all. But about various types of volunteer battalions and about
Tanks
from cans they tell us constantly and with details. Don't you think that the picture of the world is getting a little distorted? Until now, citizens of Moscow television reporters for some strange reason see Russia as a purely European power. Well, the news gives respectively ... Berlin and Brussels - this is the mainstream, Ukraine and America - this is a hackneyed record to holes. I understand that this will seem strange to many, but big international politics are not being done today only and exclusively in Ukraine.
Our esteemed TV journalists have a "bump in view" of Lithuanian residents or some other kind of limitrofa. Russia is not a "small cozy European state" like the Czech Republic and has never been. Moreover, the position of Russia as a "modest member of the OSCE" looks somewhat wild, unless, of course, we consider the "lock" as a kind of colony. For some reason, for our tivi, the "abroad" is still above all Europe. The seventeenth century is long gone, but in the time of Peter the Great, Turkey was a neighbor to Russia (politically and economically significant), as was Iran.
All the more sad is the situation regarding two Asian giants: China and India. For Russians, quite recently, the fact that there is a powerful automobile industry among those Indians has become a real shock. They, by the way, still collect metal-cutting machines, their own. Yes, a lot of interesting things are happening in this one and a half billion country of South Asia, but for us, thanks to our journalists, this country is almost as mysterious as it was in the times of Afanasy Nikitin. (Meanwhile, Mishiko was deported anyway. Zrada? Ali Peremoga?)
For some reason, we are remembered about India only at the moment of signing (not signing!) Military contracts, and everyone begins to cover Indians in chorus, but what do we know about modern India? Somewhat less than the Aidar battalion. And who is "stupid American"? India is a powerful country with a growing industry and a very interesting geographical position, but it is not interesting to anyone here. Whether business future Lemberg!
And the saddest thing is China. The first commercial and industrial power of the planet, rapidly creating its high-tech and its ocean fleet. You can talk about it endlessly, but you can not talk at all (not counting the purely "tourist" short stories). It is unlikely that someone today will argue that the number one relationship between China and China today is number one. However ... from the news bulletins this does not follow almost in any way.
The Norman Four, USA, Ukraine ... That is, based on objective criteria (purely objective), we should have China in the news at least an order of magnitude more than the "beautiful country of Ukraine", but there is exactly the opposite picture. Who do we often commemorate TiSi: Poroshenko or Xi Jinping? And which of them is politically more heavyweight? And how many orders? Given the fact that Herr Poroshenko today is generally incomprehensible that.
About the real situation in the Japanese economy (the third economy of the planet), we also practically do not tell anything, and the word "abenomics" is not widely known to the wide Russian audience. And yet, oddly enough, Japan is our closest neighbor. And it is much more significant than any limitrophe or their combination. Strangely, we are told in great detail about Riga and Nil Ushakov (and the peculiarities of the microscopic inner-Latvian policy), but they don't like to tell about the economic / political situation in the Land of the Rising Sun and Mr. Abe (because "not Europa!").
It is clear that here it is necessary to understand the languages, the local culture, and so on. Meanwhile, the Kiev Rada serves as an endless generator of stupid but amusing news. Who then may be interested in the struggle of the "princes" and "Komsomol members" in the Middle Kingdom? When Lyashko lights on the podium? Our country is so "Westernized" that everyone knows about Democrats and Republicans in Congress, but very few people know about groups in China.
No, you can cry for a lack of people who understand hieroglyphs for a very long time ... But even neighboring Kazakhstan ... Kazakhstan, Karl! Do we often read articles about this country? How often do we see TV reports? Compared with Ukraine? What do Russians know today about this country?
Because "not Europe"? That's why they do not write?
In general, it can be stated that, if in the international arena, "RT" and "Sputnik" are torn and tossed, then "internal" Russian journalism has fallen into anabiosis during the play. Although there is an ugly suspicion that the Maidan-2 "VUkraine" is a project of Russian TV people like "House-2". To have something to show and not to learn Chinese.